The next time you're out and about count how many trucks you see. Trucks seem to be everywhere, yet there is a major shortage of qualified truck drivers. This niche is in demand and it needs people like you to apply. Search and apply for truck driving jobs today. This could be a huge employment opportunity for you.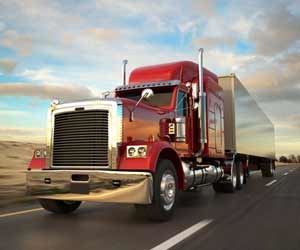 RoadScholar.com recently published a report on the trucking industry. Did you know that 70% of the freight shipped in the United States is shipped by trucks? Are you aware that the trucking industry has a shortage of 48,000 truck drivers and that number is supposed to increase to a shortage of 175,000 truckers by 2024? The trucking industry needs hard workers and safety conscious drivers to fill this huge demand.
Learn More About Truck Driving Jobs
Trucking companies are seeing their revenues skyrocket. They are actively increasing the size of their trucking fleets to keep up with transportation demands. If you're keen to find a job that pays you to drive vehicles exceeding 26,000 pounds across the country or around the world then this is the niche for you.
Search Truck Driver Job Listings
A job in the trucking industry is a lifestyle choice. You may be on the road for days or weeks at a time. It can be tough to be away from home for extended periods, but the payoff is a steady job with high job security that pays well on a regular basis. Isn't that what we are all looking for?
Find Trucker Jobs With These Truck Driving Companies
Whether you're paid by the mile, the load, or the hour, truckers make a good living. The BLS reports that heavy and tractor-trailer truck drivers make an average of $19.36 per hour or $40,260 per year. Currently there are 1,797,700 truck drivers who actively work in this industry and that number is expected to grow because qualified drivers are in demand.
Are you ready to find truck driving jobs? The following trucking companies are hiring:
The trucking industry needs people like you to become truck drivers. Attend truck driving school, earn your CDL, and log your hours behind the wheel. Search and apply for truck driving jobs today on the JobMonkey JobCenter.