It's important to love where you live. As you research and visit different places you grow to understand what you like and dislike about them. Some places you'll feel totally out of your element, while in other spots you'll feel right at home. One of the best ways to enhance you life is to find a place that makes you happy and move there.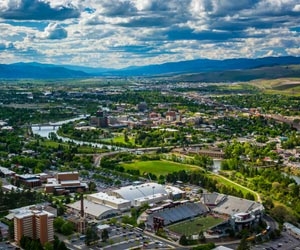 Everybody will thrive in a different environment and it's your responsibility to find a place where you want to put down roots and set up shop. We encourage you to do your research and travel to find the right place for you. That might be right down the street, across the country, or on the other side of the world. It's your call.
Finding the perfect fit is all about balance. Be sure to consider: culture, climate, community, companies, cost of living, and other factors. The goal is to find a place where you can make a living and be happy.
17 Things To Consider When Relocating For A Job
The vast majority of people are going to start their research for the best towns online. With so much information available online this is a great place to begin the hunt for your next hometown. One great resource is OutsideOnline.com's Best Towns of 2017
In the article, they write that "To put together our list of the best towns ever, we scoured more than three decades of coverage and created a Special Advisory Council to nominate places that are great for kids, have drool-worthy food and drink scenes, are welcoming to people of any background, and have all the bike lanes and singletrack you could possibly want." Why not start your search for the best towns here?
Below we highlight OutsideOnline.com's list of The Best Towns of 2017:
For each of the towns that made the list, OutsideOnline.com shines the spotlight on population, median home value, median household income, and provides a full description of these cool places. Please visit OutsideOnline.com to learn more.
We highly encourage you to shop around to find the best towns for you. Don't settle for anything less than exceptional. We know that change can be tough, but when you do your research and find the best place for you to thrive as a person and as a professional, you'll realize that change is a good thing.
Where's the right place for you to relocate? That's up to you to decide. If you choose poorly, don't sweat it, you can always make a change. Hopefully JobMonkey.com's vast web of information can help you decide where you want to call home. Best of luck!
See Also: