Do you think that cubicle jobs are boring? Do you feel like yawning when you think about the 9 to 5 grind? Maybe you need to find an extreme job?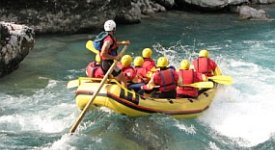 Extreme jobs are the ultimate escape from the doldrums of office life. Instead of sitting at a desk in a "normal" job, you'll be scaling mountains, diving amongst sharks, searching for lions, riding world class rapids, jumping out of exploding cars, milking deadly snakes, or some other adrenaline pumping activity.
Life's an adventure and it's up to you to live it to its fullest. Why not find a job that makes you feel alive? There are so many cool and extreme jobs where you'll live for the thrill and enjoy every minute of it.
Here are few extreme jobs that adventurous job seekers should definitely add to their job search:
Skydiving Instructor – Does jumping out of airplanes sound like fun to you?
Safari Guide – Are you keen to guide people in remote regions of Africa to spot dangerous wildlife?
Rafting Guide – Do you get a thrill from riding the whitewater of the world's wild rivers?
Scuba Diving Instructor – How does exploring the world of sharks and shipwrecks beneath the sea sound?
Helicopter Pilot – Do you want to buzz through the sky in a whirlybird?
Fishermen – Often called the world's most dangerous job, fishing will keep your heart pumping.
Loggers – Are you keen to cut down trees in the wild forests miles from any help?
Mountain Guides – Does skiing, rock climbing, and mountaineering sound like a cool way to make a living?
Stuntman – Do you want to bring the special effects and dangerous stunts of Hollywood to life?
Bush Pilot – Does flying small planes into the heart of the wilderness sound like a good way to make a paycheck?
Bounty Hunter – Are you ready to hit the mean streets in pursuit of dangerous criminals on the run?
Snake Milker – Any interest in saving lives by milking poisonous snakes?
Storm Chaser – Ever wondered what the eye of the storm looks like?
Smoke Jumpers – Who wants to skydive into the middle of a raging forest fire?
Avalanche Forecaster – How can you forecast for avalanches with exploring mountains covered in wild snow?
Which of these extreme jobs would you choose? These heart pumping gigs will keep your adrenaline high. They are the anti-cubicle lifestyle. Instead, your office will be in flying helicopters, fishing boats, logging camps, mountain tops, wild rivers, or movie sets. We'd take any of these "offices" over that boring old cubicle any day!
What you do with you life is up to you. Why not do something that makes you feel alive? People get paid to do these jobs every single day. Why aren't you?
Find an extreme job on the JobMonkey Job Board today.