Whitewater River Rafting Guide Jobs
Rafting and kayaking is considered one of the most popular and exciting adventure sports today. In any region where there is a river to navigate there are people rafting or kayaking down it. Rafting is offered as one of the most popular outdoors sports for summer and adventure camps and nearly everyone has, or is eager to try it.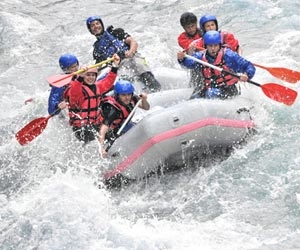 What's funny is that people organize entire vacations around white water rafting while a lucky few get to call this dream job, work. Beautiful locations, sunshine and cool waters are only a few of the perks to what is part of the job description for a river rafting guide.
A river guide is perhaps the quintessential outdoor job. You are around people and the outdoors. Those with river rafting guide jobs get to enjoy camping under the stars and swimming in mountain rivers. You interact with the wilderness and exercise outdoor leadership skills. White water rafting truly embodies the adventurous nature people are drawn to about working an outdoor job.
Being a River Guide
Guides must be able to safely maneuver difficult rivers while leading groups of up to six inexperienced members. Rafting guide duties include meeting and greeting guests, loading and preparing rafts, executing crash courses in rafting, giving safety speeches and most importantly leading a safe and fun rafting trip. Some rafting trips can be overnight, so a raft guide must have wilderness skills and know the terrain in the area. Some rafting guides will be required to work out of the rafting base, which might include staffing the rafting shop, helping guests and making reservations.
Rafting Guide Job Requirements
Rafting guides must have river experience. Most attend an instructional school to give their rafting knowledge credibility. The knowledge acquired at these instructional schools and common things a rafting guide are expected to know are:
Reading rapids and dangerous rivers
Knot tying
River signals
Equipment maintenance
Wilderness safety and training
Flipped raft drills
Flip lines and bags
Overnight sleeping
Outdoor leadership
Complete First Aid Training
Links to Rafting Guide Schools
Rafting is usually seasonal work because rivers rise and fall according to seasons and temperatures need to be manageable. This makes white water rafting the perfect guide job for college students who are off for a summer, or for people with other seasonal work.
Find jobs with the top whitewater rafting guide services in the JobMonkey Job Center today.
Whitewater Rafting Guide Pay
Salaries vary depending on the outfitter and the experience of the guide. First season pay is typically low, because outfitters want to be sure their guides are serious about working the river. Room and Board are sometimes offered however, many rivers are located near towns, where guides must be responsible for their own accommodations.