SCUBA Diving Jobs
Destinations
Water covers 70% of the earth's surface. And anywhere there is water, there are divers wanting to explore. And where there are divers, there are also opportunities for divers to work.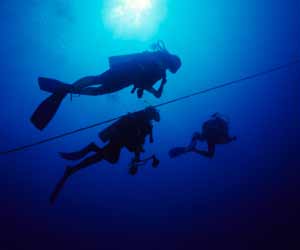 In general, when people picture the lifestyle of a dive professional, they visualize sandy beaches, golden tans, picturesque sunsets, lively coral reefs, and abundant sea life. And this is an accurate image for the majority of SCUBA jobs available. These diver jobs are in such ideal tropical locations such as Hawaii, Thailand, the Caribbean, the Galapagos, the Mediterranean, Maldives, Philippines, Australia, Fiji, and countless other places you may have seen on Tropical Island calendars.
Not all of us are lucky enough to live in a tropical paradise. But we still have a passion for diving, right? Dive jobs don't limit themselves to these locations. Remember, anywhere there is water there are dive jobs. You could be a high altitude dive instructor in Colorado, or lead dive trips in underwater mines in the Midwest, or do commercial diving on an oil rig in the middle of the North Sea, or study ancient wrecks in Greenland, or be an expert dry suit diver in Alaska, or work as a biologist in the Red Sea, or clean aquariums in New York City, or work as a customs agent at any port of entry, or do search and rescue in the rivers of Europe! The possibilities are endless for someone with diving skills.
If you're really interested in working in the dive industry, contact your local dive shop. Every town has a dive shop, they might cater to island hopping vacation goers, but they will also know of local jobs like dive instruction, aquarium cleaning, lake conservation, or anything else you can imagine.
The key to getting a dive job is water. And water is literally everywhere! So if you want to travel from island to island living in a different tropical paradise every year – go for it!
Or if you live in the middle of nowhere and are interested in making a few extra bucks on the weekend certifying a group newbie divers at the local YMCA pool – go for it! If you have a passion for diving – go for it!
Diving careers are out there, just for people like you. The opportunities span the globe from Chile to Malaysia, from Madagascar to Spain, from the US to the Caribbean. All you need to do is pick where you want to be – most likely there will be dive job for you there!