Do you have everything you need to be successful in your job search? There are a handful of job search tools every job seeker needs if they want to find a job.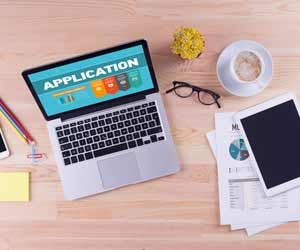 The job search can be challenging, but the following items can help you find a job. These are the 10 job search tools every job seeker needs:
Business Cards – When you are networking, it's important to exchange business cards with they people you meet. This way you can remember their name, obtain their contact details, and get in touch with them in the future. Learn more about business cards on JobMonkey.com.
Personal Website/Blog – In today's modern job search, you need to have a web presence. Build a blog or a website that highlights your skills, talents, or portfolio. Make it easy to find and add your website to your contact details. Learn how to build your web presence today.
Internet Access – You won't make it very far without Internet access. Whether you have a home connection or you visit the local coffee shop, you'll need to get online to apply for jobs, check email, and stay on top of your job search.
Interview Clothing – When you make it to a job interview, you need to make a good first impression. Dress appropriately for the job and make sure that you appear professional.
Email Signature – Many job seekers overlook the value of an email signature. Add one to your email right now. It makes you look important, but can also supply links to your social presence. Learn why you need an email signature in this post.
Sales Pitch aka the Elevator Pitch – Practice your sales pitch. You need to be able to sell yourself in 30 seconds. Without a convincing elevator pitch ready to go, it will be hard to tell someone who you are and why they should hire you.
Stories – A good story can get you hired. As a job seeker you should practice telling stories. They come in handy at job interviews, while networking, or if you find yourself in a difficult situation. Be able to engage your listener with a good story at any time. Learn why storytelling will get you hired.
Smartphone – Smartphones are always with you. They allow you to access the Internet while on the go – making you more responsive and ultimately more professional. Smartphones also allow you to search for jobs via your mobile device, send and receive email, utilize job search apps, and even apply for jobs. Learn why your smartphone is your #1 job search tool.
Planner – A day planner will help you stay organized, keep track of your to-do list, track meetings and dates, and monitor how long it's been since you applied for a job so you can follow up. Being organized will help you in more ways than one.
A Job Search Strategy – It's your responsibility to find yourself a job. Create a foolproof job search strategy that helps you achieve your goals. This may include utilizing different job search channels, fine-tuning your resume and cover letter for every job, scheduling when and where you are going to network, or determining what employers and industries you plan to target for jobs. An organized job search strategy will help you stay focused and motivated.
Now there are plenty of other things that could be added to this list – a positive attitude, a killer resume, a flawless cover letter, or a professional certification for example. You may even need something very specific to the job you are looking for, like a portfolio. It's your job to have the things you need so that you are prepared for the job search.
When you arm yourself with the right job search tools you'll be one step closer to finding a job. Obtain the tools you need to ensure that you have a successful job search. It's more important than you might realize.