Whether you want to be a trivia expert of you're in the middle of the job hunt, it's worthwhile to know who is the largest employer in your state. The economy of the United States is diverse and businesses pop up in all 50 states that do a wide variety of things, but you may notice that the biggest employers in this list come from a just a few major niches.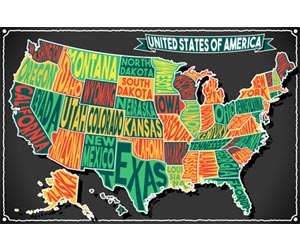 Top 10 Largest Employers In US
We stumbled upon a post from 24/7 Wall Street that looks at the largest employer in every state. The study includes nonprofits and both public and private employers. The list was created using information from "company press releases, government data, business journals, local media reports, as well as statements from company representatives." It's interesting information for anyone applying for jobs in the United States.
Based on 24/7 Wall Street's list, you can now find out who is the largest employer in your state:
Alabama – Walmart
Alaska – Providence Health & Services
Arizona – Walmart
Arkansas – Walmart
California – University of California
Colorado – Denver International Airport
Connecticut – Yale New Haven Health System
Delaware – Christiana Care Health System
Florida – Walmart
Georgia – Walmart
Hawaii – University of Hawaii
Idaho – St. Luke's Health System
Illinois – Walmart
Indiana – Walmart
Iowa – University of Iowa
Kansas – Walmart
Kentucky – Walmart
Louisiana – Walmart
Maine – Hanford Supermarkets
Maryland – Johns Hopkins Institutions
Massachusetts – Partners Healthcare
Michigan – University of Michigan
Minnesota – Mayo Clinic
Mississippi – Walmart
Missouri – Walmart
Montana – Walmart
Nebraska – University of Nebraska
Nevada – MGM Resorts International
New Hampshire – Walmart
New Jersey – Wakefern Food Corporation
New Mexico – University of New Mexico
New York – State University of New York System
North Carolina – University of North Carolina System
North Dakota – Sanford Health
Ohio – Walmart
Oklahoma – Walmart
Oregon – Providence Health & Services
Pennsylvania – University of Pittsburgh Medical Center
Rhode Island – Lifespan System Of Hospitals
South Carolina – Walmart
South Dakota – Avera Health
Tennessee – Walmart
Texas – Walmart
Utah – Intermountain Healthcare
Vermont – The University of Vermont Medical Center
Virginia – Walmart
Washington – Boeing
West Virginia – Walmart
Wisconsin – University of Wisconsin
Wyoming – Walmart
Did you notice anything about this list? We did.
First, Walmart was the largest employer in 22 states. Besides the federal government, Walmart is the largest employer in the United States with 1.5 million employees in the US and 2.3 million globally. Besides retail, the major players in this list include healthcare organizations and universities. These might be good places to search for your next job…
Learn more about each of these employers, including how many people they employ, on 247WallSt.com.
If you're searching for a job, consider applying for jobs with these major employers. It's very likely that they are hiring right now. Are you ready to search and apply for jobs? Stop by JobMonkeyJobs.com to get started today.
See Also: