Do you ever forget to eat breakfast? The next time you're running late, you're feeling lazy, or you're not hungry, don't skip breakfast. We've all heard that breakfast is the most important meal of the day. Yet, for some reason millions of Americans skip breakfast regularly. Don't let this happen to you.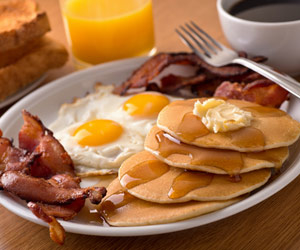 The food we eat gives us the energy we need to perform our best. A healthy breakfast will help you kickstart your day and set you up for all-day success. Cereal, eggs, fruit, breakfast sandwiches, juice, coffee, or some other tasty combination of foods can easily give you the nutritional intake you need to have the best day ever.
Supercharge Your Day With These Coffee Alternatives
Life isn't meant to be experienced on an empty stomach. To live life to the fullest you should never skip breakfast. This  important meal can even play a role in your job search. Whether you're on the hunt for new jobs, heading into a job interview, or trying to get a raise, eating breakfast might be just the thing you need to help you stand out from the crowd.
Never skip breakfast. It's super important for your mental and physical well being. The morning meal can make a positive impact on the following things:
Overall Health
Memory
Concentration
Appearance
Nutritional Intake
Weight
Stress Levels
Mood
Energy
Would these things help you find your next job or provide you with the career boost you've been waiting for? Everyone can benefit from eating breakfast – including you. All it takes is starting your day with a healthy meal. Whether you need to wake up earlier, prepare breakfast the night before, or find simpler breakfast solutions, make eating breakfast a habit. Your mind and body will thank you.
13 Smart Ways To Supercharge Your Productivity
When you improve your mental and physical well being, it will allow you to be the best that you can be at work, in the job search, or in life. A healthy breakfast might just give you the edge you need to beat the competition and land your dream job.
Eat breakfast. It's important.
See Also: