How to Forge a Career in the Arts
It takes more than passion and talent to forge a career as an artist. Rhonda Schaller, author of Create Your Art Career, talks about her book, her personal success in the art worlk, and the factors that make it possible to earn a living in art.
Thanks for talking with us. Can you share a little bit about yourself?
I'm the Director of the Pratt Institute Center for Career & Professional Development, an artist, educator and creative career coach.
I've authored numerous articles and books including Create Your Art Career, Called or Not, Spirits Are Present, Alternative Exhibition Strategies, Tools for Success, Freelancing Basics, Creative Visualization and Career Planning, An Insiders Guide to the NY Art World, Marketing Visions and Strategies for Artists.
My artwork is in the permanent collections of the Memorial Art Gallery, C. Everett Koop Institute Art of Healing Gallery at Dartmouth University, the Exit Art/Reactions collection, Library of Congress, and Franklin Furnace/Book Art archives, Museum of Modern Art.
I co-founded the Ceres Gallery, NYC in 1984 and was a Board Member and faculty of the New York Feminist Art Institute. I founded Schaller + Jaquish Art Projects and Create Meditate.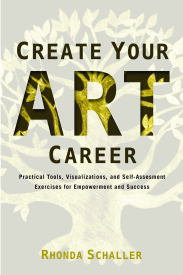 Adjunct faculty for the School of Visual Arts; and New York University School of Professional Studies, and teach meditation at Pratt for the Prattfit program.
What motivated you to write Create Your Art Career?
I wanted to share tools and techniques that had worked in my life and career, and inspire and motivate others to be successful. I wanted to write a book that could be a step-by-step guide for artists to connect their creative mind to their business mind. Every artist wants to know "what do I do." And I knew from my own experience that visualization, self reflection and making lists can help shift perception of what is possible, and help you "do it."
How did you decide which visualizations and self-assessment exercises would work for Create Your Art Career?
I developed a course for SVA that explored career planning through using visualization meditation, which I had been practicing my entire career. It was a big success. I discovered through teaching that artists needed to learn to connect to their core story, their vision, and see how it shaped all of their career decisions and then map it out.
So those visualizations and exercises had to be in the book. And from there, they needed practical guidance on how the marketplace worked, how to create strategies and marketing plans, and connect to a public role for themselves outside of their studios.
So those had to be in the book. So from working with hundreds of artists, with what started as a small workshop, became a semester long course, now has became a book. And soon will be an online video/audio course available this summer from my website.
In a nutshell, what will readers learn from your book? What are the big takeaways?
There are two big takeaways:
Readers will learn how to use creative visualization meditation (there are 28 visualizations in the book) as a career planning tool to uncover the meaning and vision of their work and learn the best mind mapping and assessment strategies (there are 56 exercises in the book) to articulate the steps they need to take in order to get a successful career started or reinvented and maintained.
How does the reader use these tools and techniques?
In two really big ways, you can think of it as right brain and left brain. The right brain tools and techniques help you to change the way you think and feel about your creative career. Our attitudes determine our vision. So you have to start there. What do you believe is possible? Visions determine the world we experience and the choices we make. So, to have a creative career, get a better job in the art and design fields, start your own studio, as well as have multiple streams of creativity and revenue you need to deepen and understand your vision, your audience, and then take action.
The left brain tools and techniques help you to redefine career goals as dreams with deadlines – and then take action to realize them. Most creatives just don't know what to do, who to ask, how to plan, how to get started and keep it going. Once you know your vision, you can translate that vision into a plan, a life-like scene of action steps that fulfills your goals, and keeps you feeling empowered to be open to new dreams and serendipity.
Skills such as how to set up your own studio business, earn money and attract funding, build community support, network, social media, the artist as entrepreneur are all covered in the book. As well as how to tailor the strategies needed based on who you are and your comfort zones. There is always a way to be who you are, and work with your wiring
Aside from artistic talent and perhaps training in the arts, what other factors help determine whether someone can have a successful 'career in art'?
There are four factors. These are:
Authenticity,
Value,
Market and
Perseverance.
Authenticity is the bedrock of your creativity. What is real for you? How do you express this truth in your work? What is that special impulse within you and how is it translated by your hand and mind? This is the quality of your own consciousness that takes shape in form and says something special. This is what resonates with your audience and keeps you in "flow."
Value is the second factor. To bring others into your process and ideas, you need to learn to talk about your authentic vision, write about it, express it as a value to you and others. What do you value and what does your audience value, and how can they see it in the work or in your self-promotion and marketing. Understand that there is a collective consciousness, a group think in the community that shares values with you. You need to know where your work can fit into what is valued, for yourself and the larger community. Our values drive us forward, they are the hidden motivation systems within us. As you create your career these values guide you and help you identify your right audience and right market because they share your values.
Market is the third factor. You need to market your talents to people who want to hire you, collect you, commission you, and know you. You can figure out who they might be based on your authenticity, and your value. You learn to project that value in the way you market yourself. You use this information consistently and persistently to present your work to all the people in a position to exhibit you, collect you, hire you or refer you. Freelance work, galleries, teaching, performance gigs, running your studio – not all creative work belongs in the same market. Not all markets require the same talents and skills. Research how the market works, and how to market to them, and then you can share your authentic voice to the right market.
The last factor is perseverance. You can do anything you set your mind to – it's called perseverance. To stay the course, you need a supportive community, you need to minimize the negative people in your life, the nay-sayers who don't get it, or you, or your work. Perseverance requires that you stay adaptable, and allow the market trends to teach you to adjust and try new things.
Be willing to reflect, to change and ask for help as you need it. There is always a way as long as you are flexible, keep learning how the market works, and adjust accordingly.
There are all kinds of art career pathways. Not just fine arts, i.e., painting, sculpting, and so forth. We've even highlighted art therapy careers on JobMonkey. Can you describe some of the common art careers one can embark upon…and perhaps some that most would not think of?
There are so many pathways! And you don't have to have just one. You can have multiple careers at the same time with lots of creative side projects, which I recommend! I like to think of it as "makers and shakers."
Examples of makers are those who create a tangible product or idea into form:
the fine artist,
graphic or motion designer,
photographer,
filmmaker,
animator,
jewelry maker,
clothing designer,
product designer,
architect,
urban designer,
medical illustrator,
game designer,
app designer, etc.
Shakers are those who take the product and do something with it, such as the:
blogger,
critic,
art director,
art buyer,
curator,
producer,
director,
teacher,
creativity consultant,
design or cultural manager,
teacher,
art therapist,
agent,
publisher, etc.
And you can be both.
Great creative side projects can include open an ETSY shop, design tattoos, create a textile workshop, design cupcakes, run an artist support group, a paint club or open an artist run gallery.
Or, you might have studied visual arts and become an author and blogger. You might be an industrial designer and found a startup with friends designing apps for the IPad. Side projects can turn into full-fledged careers.
And then there are the more untraditional pathways for a artists: Â Be a chef/cook/ or baker, landscape architect or urban rooftop gardener, apps are everything be a developer or visualizer for data, and then there is the creativity consultant or coach, and how about public relations or fund raising in the arts. Design eye glasses, or be a nail polish artist, or creator of visual math puzzles or games, science data visualization, and anything with technology, or pets (everyone loves animals :), environmental and conservation illustrations.
A creative career is a voyage over a lifetime, it is a series of roles, and jobs and opportunities that enrich your life's work with the power to shape the world around you.
Is it easier to make money as an artist now thanks to the Internet? How can artists use the Internet to help themselves achieve success?
Yes, it is much easier for artists to make money and build a reputation by using the internet. The Internet is a great way to have a public conversation, and share meaningful content, and sell that content. The hardest part for most artists is to recognize that the internet is not a silent store it is conversation.
As with all conversations, it is about sharing meaningful ideas with people, back and forth and making it easy for them to buy your work and get to know you. Not static, but dynamic.
Artists should use social media to build an audience, use online portfolio sites to create visibility, as well as their own websites to sell their work, develop apps so their work can be viewed on mobile devices and be shared virally, write blogs and comment on blogs so they can share their process and ideas. Think of the Internet just like you would networking. The Internet is a great networking tool, and it's goal is to build relationships around what you think and what your work is about, and then using social media you can share it.
My wife is a graphic designer who is also a part-time K-12 art teacher. She created both opportunities for herself. Is it important to have a bit of an entrepreneurial spirit and business sense to have a career in art?
Absolutely! Your wife is a great example of a "portfolio career." Having many streams of creativity that you create and make happen. A creative must have an entrepreneurial spirit and business sense to have a career in art. If you find that you are afraid of it, then team up with like-minded friends! Partner up with others to scope out a life/business plan to share your work and come up with business ideas. It takes research, relationships and referrals to build a business of any kind. And it starts with a vision which is uniquely yours, that's the good news. Business principles can be learned, that's the even better news. And there has never been a better time – NOW.
Where can an artist go to learn about entrepreneurial ideas?
A great place to search is on kickstarter.com and idiegogo.com. See what other creative folks are doing, how they present their ideas. Entrepreneurship is important for today's artist, enterprise thinking will allow you to bring your work to the world. And don't forget you can be the next ETSY as well as a seller on ETSY, you can create the next IPad, twitter platform, or pinterest. You can open an art school in addition to teaching at one. Use your art skills to bring beauty to the world – we need it! And do it your way.
There are more art world models to be created – and why not you? Create something new. Careers evolve and change over time, armed with skills and an entrepreneurial spirit you can empower yourself to forge your own career path. I hope my book helps you "make and shake" in this new world of visual communications and ever-changing technology.
Let's say I'm 18 or 19 years old and reading this…what advice do you give young people who desire to make art their career?
I tell young artists all the time – having an art career is wonderful. And most fine artists have a day job. Many creatives have 2 – 3 jobs at the same time to make an art career happen. And that is fine, it's wonderful, it's how creative people operate. Don't be afraid of it. Many side projects, many dreams, many steps to be creative and fulfilled. It takes hard work and a willingness to grow to stay true to a creative vision and share it in the marketplace. Being an artist is not for the faint of heart, it is not like being a banker or a lawyer working for one firm, or travelling one pathway towards retirement. Being an artist takes moxie and a willingness to dance to your own drummer and share a vision. You are a vision-maker, an artist – that is a wonderful path. Be a beacon in the community and make the world a better place through your creativity!
How can a young artist (or any age for that matter ) prepare for their career?
Be prepared to inspire the inner entrepreneur within you and build a community to support you. And most importantly, start getting to know your self, know who you are and what you have to share. Then research the many choices of where you can take your work, the many markets and audiences – and match yourself to that market, to a few possibilities. There really are many possibilities.
Then map each one out, match your work with the right audience and begin to network, build relationships, get to know people, let them get to know you. This will help you understand where you are going and if it really is the series of roads you want to walk. Be prepared for happenstance and serendipity, and let your visions guide you and your skills to ground you.
The third step, how you will get there – that's the implementation phase.
Study the field, know which venues require which approaches, which skill sets and types of portfolios and start marketing yourself. Dream big, feel it as real and take the steps to reach your goals. Assess what works, reassess what does not, and don't ever give up. Keep creating, keep sharing, keep dreaming. It takes authenticity, value, market and perseverance. You can do it. When you believe in yourself, anything is possible.
Can you recommend a few resources for people who are interested in a career in art?
Two of my favorite resources for people interested in a career in art are New York Foundation for the Arts and Artsy Shark.
For entrepreneurial help I like Project Eve and Startup Nation.
And for Marketing advice I like Marketing – Mentor and Pitch Perfect. And I really like Derek Sivers for inspiration on doing what you love and letting it become a business.
Join and attend is also a great strategy to uncover further resources and meet people in the field. Attend all the free lectures you can, for instance Pratt Institute has a calendar of events where you can hear a variety of amazing professionals in all fields of art, design, architecture and information science share career advice and network while you are there.
What motivated you to be a teacher and an artist?
Ten years ago I received a $250,000 grant from the late Alan B. Slifka's Foundation sponsored by Ceres Gallery for a project to explore shifts in consciousness, which I named the DARKNESS and LIGHT project.
This grant allowed me to write and paint and travel over a five year period, and I realized during that time that it was not enough for me to have my own art career, as corny as it might sound, I needed to help others find ways to have their own art careers, and I wanted to share my resources and teach what I had learned. So I became a certified career coach, and created courses in creative job creation, job search and entrepreneurship, how to market your work, how to navigate the New York City art world, grant writing and visualizing your future.
Are you planning a new course for artists on the horizon?
My new course will be an online video/audio self-paced course to accompany the book Create Your Art Career, available from www.createyourartcareer.org. So in the words of millionaire entrepreneur Derek Silvers who has inspired me over the years, "Share what you got"!
What's the next book you've got in mind?
Actually, I'd love to do a book on sustainability for artists. There is so much to do "post sandy" through urban planning, and I'd love for artists be a part of that. The be "green" movement and artistic landscape placements need more artist input. And artists need to learn to use and understand sustainable materials, recycled and reclaimed materials, rainwater sculptures, etc. Community and collaboration is the name of the game. I'd like to be a part of it, and help others do the same.
KEEPING TABS ON RHONDA SCHALLER:
Book: Create Your Art Career
Website: www.createyourartcareer.org
Blog: createmeditate.wordpress.org
Facebook Page: www.facebook.com/rhonda.schaller.14
Twitter Handle: @createmeditate