Cruise Ship Crew Members Experience Ups & Downs
Many dream of being a crew member on a luxury cruise ship. The dreamers, they envision themselves shopping in exotic ports of call, sunbathing, partying below deck with fellow crew members. Sounds great, right? Truthfully, of course, the crew experience isn't all fun and games. Working on a cruise ship requires a number of sacrifices – and perseverance.
Joshua Kinser is the author of Chronicles of a Cruise Ship Crew Member: Answers to All the Questions Every Passenger Wants to Ask, a book that does a nice job of conveying what the crew endure – the good and the bad.
We had the opportunity to discuss the book and related topics with Kinser…
Tell us a little bit about yourself.
I grew up in Pensacola, Florida and never expected to find myself out at sea working on a cruise ship. In 2006, I was working as a journalist for Gannett at the Pensacola News Journal.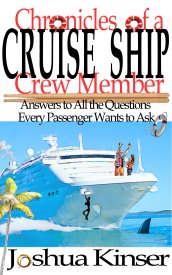 I received a call from a band leader that I had previously worked with in Europe. He asked me if I wanted to come and join his band on a cruise ship in the Bahamas. I thought about it for about two seconds and quickly realized that playing drums and floating around the Caribbean sure sounded better than pumping out 2,000 words a day in a tiny office. So I hit the road and joined the ship life.
Five years later I was still floating around the world on cruise ships and eating lentil curry for dinner every night in the crew mess, counting the days until we would be served chicken fingers again. I had no intention or dream of working on a cruise ship. I just had my hands in all kinds of work at the time. I had lots of irons in the fire as they say. I still do. It just goes to show you that you never know where your ship will take you when you unfurl the jib and let a little wind into your sails.
My book begins from the point in my life when I received that life-changing call to the sea. Before I went to work as a drummer in the orchestras, jazz trios, and lounge bands aboard cruise ships I attended college in Florida and earned a degree in journalism with an emphasis in biology.
Throughout my time at Pensacola State College I worked for the campus paper, the Corsair, winning several awards for the writing I did at that time. I also started freelancing for magazines and newspapers as a travel writer mostly covering outdoor sports locations throughout Florida and the mountain regions of the Carolinas.
Outdoor exploration and sports, particularly backpacking and back-country navigation skills, have always been a passion of mine. The focus in biology studies throughout college helped facilitate a career in wildlife biology that I still enjoy today.
From the time I was 19 I have spent most of my summers working for the Forest Service and National Park Service as a back-country wildlife biology technician. During these periods of employment I have:
worked in Florida,
Hawaii Volcanoes National Park,
Glacier National Park in Montana,
Baxter State Park in Maine, and
in the Forest Service lands surrounding Yosemite National Park on wildlife-focused science-research projects.
The time I spend in the outdoors hiking through the mountains of this beautiful country gives me the much needed time to think and formulate my book ideas. It also keeps me rather curious about the world around me, which lends itself well to a writer.
Currently, I am working full-time as a writer and musician in the Asheville, NC and Charleston, SC areas.
Last year I published four books which include the humorous book Chronicles of a Cruise Ship Crew Member, as well as two hiking guides to the southeast in the Five Star Trail series published by Menasha Ridge that cover hiking trails in Raleigh and Charlotte, NC.
The fourth book that I published this year is titled Following Mowgli: An Appalachian Trail Adventure with the World's Most Hilarious Dog. This book tells the true story of what happens when I attempt to hike the 2,000-mile long Appalachian Trail with my lovable, eccentric, but destructive German shepherd named Mowgli. It's a very enjoyable, easy, and hilarious read.
Currently, I am working on two other guide books, a hiking guidebook to the entire state of South Carolina that will be published by Falcon guides in 2013, and the 4th edition of Moon Handbook's guide to the Florida Gulf Coast that will be published in late 2013. 
Why did you feel compelled to write the book?
When you return from working on a cruise ship everyone around you is always asking you what it is like.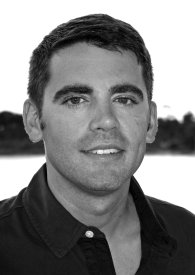 They want to know every aspect of ship life, from the outrageous crew bar parties to the pork-knuckle soup and other wonderful culinary treasures that we enjoy so much in the crew mess. I felt I had an interesting and fun story to tell, one that I thought people would enjoy reading.
I see my time on the cruise ship through a comedic lens and I thought my perspective would translate well to the page. Also, I am a writer. It just seemed like the most sensible next step to process what I experienced through writing about it and then publishing it and sharing it with everyone else. Ultimately though, I must be honest, I needed the money. Nothing motivates you more to write, or do anything else for that matter, than not knowing exactly where your next meal is going to come from.
However, the book was really just an experiment. I knew I had a hilarious story to tell about what it is like to work on a cruise ship from the perspective of a musician that spent more than 5 years on a cruise ship. I had no idea how it would sell or how it would be received. I figured my one friend and a few of my family members would buy a copy and that was about it.
The book has to date spent more than 6 months as the #1 selling book in the Cruise and Caribbean categories on Amazon.com. 
It's hard to tell whether you'd recommend this work to someone else. If you did, what would you tell someone who's about to set off for his or her first job on a cruise ship?
Have fun and live life to the fullest while you are out at sea, but try not to become too destructive (at least on your second contract). There are no boundaries in ship life. You can for the most part become as destructive or constructive as you want while you are out at sea.
A lot of crew members spend their contracts drinking at the crew bar and sitting in their rooms watching Downton Abbey episodes over and over again.
They miss the opportunities to experience every port and ship life to the fullest. Then before they know it they are sick of ship life and back on land. They missed these great opportunities to experience all of the places, people, and cultures around their ports.
Time to give some advice…1) reasons why you SHOULD try working on a cruise ship and 2) reasons to stay away.
This all depends on the job that you are applying for and what type of personality you have. Not everyone is cut out for ship life. Having said that, the best part of the job is the free food and the travel. Having your own room steward is a nice perk too if you're on a ship where this is an option.
I love not having to drive for months on end.
There are plenty of perks on the passenger buffets, but not everyone has access to them.
The biggest reason to stay away is if you have a problem with authority. The ship after all has a hierarchy with a captain and officers. This means there are people who are in charge of you. Sometimes, when small-minded people get a little power it goes straight to their heads. This can make for an unpleasant experience at sea.
The hardest part of ship life though is being away from friends and family for such long periods of time. Relationships suffer and distances between people grow quickly. 
What are the toughest things about working & LIVING on a cruise ship?
Things may have changed since I was aboard cruise ships, but for me having to deal with cigarette smoke and the poor quality of food and water aboard the ship was very difficult. I want to breathe fresh air and live a very healthy lifestyle. This is difficult to accomplish when the person in the cabin next to you is smoking and the smoke is funneled directly into your crew cabin through the "ventilation" system.
They say these are great jobs because you meet people from around the world, can save lots of money, and see the world. You've lived it…what's the truth?
All of the above is definitely true. However, it really all depends what job you have on the ship.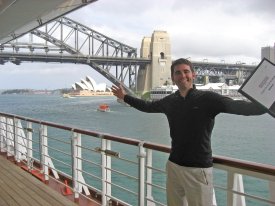 Musicians have a lot of time off. We get to explore every port and we make decent money. It's easy to save that money when you get a free room and all the free food you want aboard the ship.
However, if you are a cabin steward or a cook you will definitely see less of the world and more of the kitchen that you work in or the inside of the cruise ship cabins that you are cleaning. There are people from all over the world working on the ships and this does make it a fascinating place to work and live.
Do some crew have it better than others? Who has it the best?
Every company is probably different, but the two companies that I worked for were about the same in this regard. I can honestly say that being a musician or any position in the entertainment department is one of the best jobs on the ship. You have a great deal of time off, the pay is decent, and you get access to the passenger areas. This means you don't have to spend your whole contract down in the crew areas. This is definitely a good thing.
What's the next book you've got in mind?
Currently, I am working on two other guide books, a hiking guidebook to the entire state of South Carolina that will be published by Falcon Guides in 2013, and the 4th edition of Moon Handbook's guide to the Florida Gulf Coast that will be published in late 2013. 
I am also working on several fiction books that will published this year. But who knows, I am always coming up with ideas that inspire me. I'm not afraid to change directions in the middle of a project if something strikes me as worthwhile, fun, and interesting to research and write about. 
KEEPING TABS ON JOSHUA KINSER:
Book: Chronicles of a Cruise Ship Crew Member
Website: www.amazon.com/Joshua-Lawrence-Kinser/e/B007Q5531I/ref=ntt_dp_epwbk_0
Facebook: www.facebook.com/ChroniclesOfACruiseShipCrewMember