Flexibility seems to be the name of the game in today's job market. With the constant advancement of technology, it's easier to than ever to find flexible work. This evolution in the way that we work allows everyone to find the work life balance that they want and need. It's pretty great, but the first step to finding the flexible way of life is to discover the top companies for flexible jobs.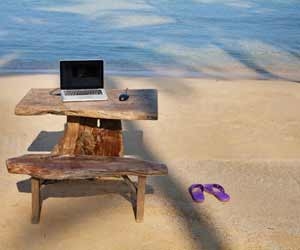 We recently stumbled upon a new list from FlexJobs.com that we want to share with you. In their October 2016 post titled, FlexJobs 250: Companies With The Most Flexible Jobs, they highlight the companies who have posted the most flexible job listings since 2013.
How To Convince Your Boss To Let You Work Remotely
To compile their list they sorted through 40,000 companies. They defined a flexible job as "a professional-level job that has a telecommuting, flexible schedule, part-time, or freelance component." Jobs included everything from entry-level to executive level positions and both freelance and employee opportunities.
Below we highlight the 50 top companies for flexible jobs:
Kelly Services
Robert Half International
Kaplan
UnitedHealth Group
Aetna
Allina Health
Carolinas HealthCare System
Providence Health & Services
Wells Fargo
Westat
CyberCoders
Humana
Day & Zimmerman
US Department of Agriculture
CACI International
Creative Group
Xerox
K12
Kaiser Permanente
Aquent
Sutter Health
Randstad
Lifespan
Anthem, Inc.
Allergan
Advantage Solutions
TEKsystems
Henry Ford Health System
BOSS Group
PeaceHealth
Fastenal
McLaren Health Care
Connections Education
PNC
Adecco
Nielsen
Panera Bread
Razorfish
Real Staffing
About.om
First Data
Aon
HealthEast
Visit FlexJobs.com to view the entire list of the 250 top companies for flexible jobs. The list is based on job postings in the FlexJobs database and it provides a good starting point for anyone seeking a flexible job. 
Some of these companies you've heard of and others may be new to you. The point of this list is that there are lots of employers who are actively embracing the flexible way of life and work. If you are proactive in your job search, you can find the flexible lifestyle that you want. It may require that you build the right skill sets or gain the right experience, but finding a flexible job isn't that far fetched.
The Best Companies For Remote Jobs In 2016
To find flexible job opportunities, visit the JobMonkey JobCenter. Then search through thousands of job postings using terms like "remote," "virtual," "flexible," "telecommute," "freelance," or other terms that cater to flexible job seekers. Another good place to look for flexible jobs is in the Shared Economy. You'll be amazed at how many job postings you will find from the top companies for flexible jobs.