The Rio 2016 Olympic Games are almost over. It was amazing to watch over 10,000 athletes from over 200 countries participate in over 300 different events during Rio 2016. The athletic feats on the world stage are always impressive to watch. Hopefully you enjoyed watching the world's best athletes compete in your favorite sports.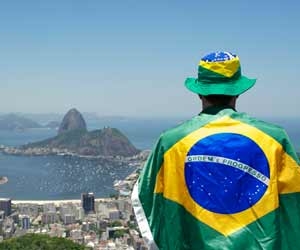 When you take a step back and look at the big picture, it's amazing how much behind-the-scenes work goes in to an event like the Olympics. It takes years of planning, construction, marketing, and organizing to make an international event like this happen.
Last year Rio2016.com ran an article that stated they would hire 90,000 people to work at the Olympic and Paralympic Games. That's a lot of jobs when you think that the Olympic Games only run from August 5-21 and the Paralympic Games only run September 7-18. What an opportunity!
The Day Jobs Of Olympic Athletes
One of the great things about the Olympics is that there are so many paid and voluntary positions for people like you and me. Thousands of coaches, officials, photographers, and journalists are in Rio de Janiero, Brazil right now helping to make the Olympics happen. But there are other jobs that aren't in the spotlight.
Tune in and watch for some of the more unique jobs at the Rio Olympics in 2016. Did you notice any of these odd jobs?
Trampoline Coaches
Lifeguards
Condom Distributors
Pool Scuba Divers
Direction People/Human Walls
Olympic Commentators
Tennis Ball Crews
Olympic Mascot Vinicius
Court Polishers
Sand Rakers
Cyclist Holders
Drug Testers
Personal Assistants
Medal Presenters
Derny Riders aka Electric Bike Pace Setters
Javelin Retrieval Experts
Some of these jobs don't even have proper names that we know of! Yet, all of these unique Olympic jobs are totally necessary for the Games to run smoothly. Have you noticed any other odd jobs at the Rio 2016 Olympics? There are bound to be some unique jobs at the Olympics that will make you smile. We seem to see a new cool job every time we tune in to watch Rio 2016.
It makes us wonder what type of unique jobs might exist at the next Olympics. Can you tell we are already excited for the winter games in PyeongChang, South Korea in 2018, the summer games in Tokyo, Japan in 2020, and the next winter games in Beijing, China in 2022? If you plan ahead you could land a job at one of these international events. Are you ready to apply?
At JobMonkey.com, we always try to shine the spotlight on jobs at the Olympics. Check back regularly to find out how you can work at the next Olympic Games. See you there!
See Also: Want To Work At The Olympics?