Jobs at the 2026 Milano Cortina Winter Olympics
The 2026 Winter Olympics will be held in Milan and Cortina d' Ampezzo, Italy
The 2026 Winter Olympics in Italy will be held February 6 – 22 while the Paralympics will be held March 6 – 15, 2026.
Winter Olympics
The 2022 Winter Olympics were held in Beijing China with a variety of events taking place in surrounding areas.
Both the 2026 Winter Games and the Winter Paralympic Games will be held in Milan and Cortina d' Ampezzo and surrounding areas between February 6 – 22 and March 6 – 15, 2026 respectively.
For official information regarding the Winter Olympics including ticket sales, dates, travel information and scheduling please see the official 2026 Winter Olympic Games webpage.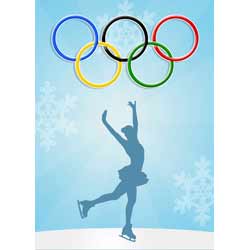 The first Winter Olympic Games was held in Sweden in 1901. The Nordic games were meant to provide a winter alternative to the Summer Games, which now alternates every two years between the two events. Initially, the Winter Games was far less popular than the Summer Olympics mainly because of the cold weather and remote travel locations required to access the event. Now however, with better accommodations and televised coverage of the Games, the Winter Olympics and Paralympic Games are some of the most popular sporting events in the world. In this section find out how to work for the 2026 Winter Olympics in addition to the many volunteer opportunities available for the games.
Winter Olympics Jobs
Preparation for an event of this kind, such as the 2026 Milano Cortina Winter Olympics, takes years of planning and the help of thousands of people. Accommodations for travelers, city infrastructure, venue construction, technology, press, scheduling, raising money for the event, event ceremonies, officiating, language services, medical staff and event administration are just to name a few of the areas where planning is underway and jobs are available for the Winter Games.
The Winter Olympics employs thousands of people and volunteers in all the necessary areas needed to execute event of this magnitude. While it would be impossible to outline every job title that is available in working for the Winter Olympics some of the areas where jobs are available include event administration, event security jobs, customer services, sponsorship, medical, construction and city planning, press operations, workforce, transportation, venue management, venue construction, torch relay, sustainability, energy, logistics and internet management.
How to Apply
Information for 2026 Winter Olympics Jobs
To apply for a job, visit the Milano Cortina Olympics Volunteer Website and the "Work With Us" page on their website.
Visit the official Milano Cortina 2026 Winter Olympics Website.
Winter Olympics Volunteering
Working for the Olympics is a great way to gain event experience and training. However, if you cannot find employment through the games, consider acting as a Winter Olympics volunteer. Volunteers are a big reason behind why the Olympic Games are so successful. With volunteer opportunities in ceremonies, pre-games preparation, youth programs, homestay, sport event volunteers and games-time volunteers, there is a way for everyone who wants to help to get involved.