Did you know that most people in the United States don't take full advantage of their vacation days? Vacation is important, but the demanding workloads and the cost of taking a trip can be overwhelming. When you take a working vacation, you get the best of both worlds.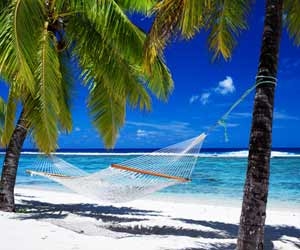 A working vacation is a bit of an oxymoron. Work is something that we do to earn a paycheck, while a vacation is something we do to travel, disconnect from reality, and enjoy a bit of rest and relaxation. They are essentially two totally different things. But when we combine them into a working vacation, it might be the perfect way to satisfy your sense of adventure and be able to travel without quitting your job.
12 Signs You Need A Vacation ASAP
A working vacation allows you to experience the world while covering your costs by setting aside time to work each day. It's an appealing way to earn a paycheck for people who are chasing seasonal jobs, working remotely from their laptop, or recharging for the job search. Working vacations allows you to accomplish your work while enjoying your life, by striking a balance between work and play.
The world is yours to explore and experience. On a working vacation you can travel to Aspen to work in the ski industry for the winter, work from a VRBO on the beaches of Grand Cayman, take a cool gap year, or send in resumes for cool job listings while road tripping through the National Park System. The options are endless.
The life experiences you have while on a working vacation will make you a more interesting person by expanding your perspectives and exposing you to new things. These experience mold you into who you are and they will ultimately make you a better worker too.
In order to experience life to the fullest and still collect a regular paycheck, the best solution is to take a working vacation. When planning your working vacation, here are a few things to consider:
Decide When You Can Go – Your industry, your clients, your workload, and your boss will dictate when the best time is to take a working vacation. Explore all of your options so that you set yourself up for success.
Establish A Schedule – Scheduling your time will help you to be more productive. Establish when you will be available and focused on work so that people will know when to get in touch with you.
Make The Arrangements – You can't just wake up one day and go on a working vacation. You'll need to first discuss options with your boss and then you'll need to plan your trip.
Get The Tools To Do The Job – Make sure you have the things you need to work remotely. Will you have Internet where you are going? Do you need to a laptop? Are you going to need a satellite phone? Or will you just need to bring your skis or scuba gear along for the season?
Did you know that many companies offer unlimited vacation as a perk? They can do this because working vacations really do work. When you are motivated to accomplish your work in an efficient and timely manner so that you can enjoy your time off, you will ultimately accomplish more in less time. Think: work hard, play hard.
How to Plan a Gap Year Adventure
Working vacations aren't all fun in the sun though. They can also be challenging. Like working from home, a working vacation requires a person to be driven, organized, and focused. It can be hard to manage your time and stay focused when you're living life to the fullest. A working vacation may also require that you work extra hard before and after you leave so that you can do a limited amount of work when you're away from the office. But the pros outweigh the cons and you deserve to take vacations – even if you have to work a little bit of work from the new "office."
When you can find the right balance between work and play, you might just become addicted to the working vacation. Enjoy!