Blue collar workers are a vital part of the world's workforce. These hard working individuals perform labor intensive jobs that do not involve sitting at a desk and staring at a computer all day. Would a blue collar job that pays well be ideal for you?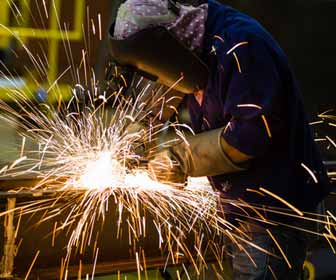 Blue collar jobs fit into a wide variety of industries like Oil & Gas, Construction, Farming, Fishing, Forestry, Installation, Maintenance, Repair, Production, Transportation and Material Moving, Firefighting, and other niches. Blue collar jobs usually do not require a university degree, but may require training, certifications, or licenses.
35 High Paying Jobs That Do Not Require A Degree
We recently stumbled upon a post from CareerTrends titled 25 Highest Paying Blue Collar Jobs. All of the jobs on the list earned over $50,000 per year! The list from CareerTrends is based on data from the Bureau of Labor Statistics and Foreign Labor Certification. All of the employment data is from May 2014 and the salary data is from June 2015. All of the occupations listed had at least 10,000 employees. Want to see what jobs made the list?
Here are 25 blue collar jobs that pay well according to CareerTrends:
Power Distributors – $73,446
Elevator Installers – $68,792
Powerhouse Equipment Installers – $67,128
Water Vessel Captains – $63,032
Power Plant Operators – $62,908
Power Line Installers – $62,094
Transportation Inspectors – $62,018
Landscape Architects – $60,696
Gas Plant Operators – $59,388
Aerospace Engineering Technicians – $58,961
Mechanics Supervisors – $56,133
Cartographers – $55,932
Solar Energy Installation Managers – $55,598
Boilermakers – $54,942
Petroleum Pump Operators – $54,492
Subway Operators – $54,471
Electrical Engineering Technologists – $54,067
Avionics Technicians – $52,671
Surveyors – $52,322
Production Supervisors – $52,271
Electrical & Electronics Drafters – $52,194
Locomotive Engineers – $52.041
Robotics Technicians – $51,041
Railroad Conductors – $50,363
Biofuels Processing Technicians – $50,304
Visit CareerTrends to see the Entry Level Wage, Experienced Wage, Well-Experienced Wage, and Average Wage for each job.
Are you interested to learn more about these jobs? Stop by JobMonkey.com to research these jobs and hundreds of other jobs too. Get a sneak peak inside these careers and decide if they are something that you want to pursue. If so, head over to the JobMonkey JobCenter to search and apply for blue collar jobs today.