What would you do if all of the sudden you were unemployed? There were no more paychecks, no more perks and benefits, and no more job. It sounds like a nightmare, right?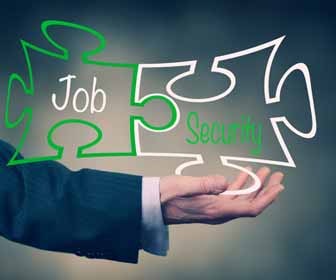 Unfortunately people lose their jobs every single day due to things beyond their control. Luckily there are some jobs that are better at weathering the storm. These jobs offer a certain degree of job security.
Job security is the probability that a person will keep their job at all times. High job security means you have a minimal chance of becoming unemployed, while low job security means the chances are greater that you'll be unemployed.
As a job seeker, it's important to consider how much job security certain jobs and careers provide. If you choose a job with high job security that can handle the roller coaster ride of the economy, you'll probably be less stressed and paid better. But how do you know which jobs have high job security and which ones have low job security?
The answer comes from 24/7 Wall St.'s article titled Jobs With the Best (and Worst) Job Security. 247WallSt.com researched the vast data from the Bureau of Labor Statistics (BLS) and "identified the 25 jobs with the highest unemployment rates and the 25 jobs with the lowest unemployment rates."
They based the following lists on 2015 unemployment rates for 310 occupations. Every occupation had a labor force of over 65,000. For each job they looked at:
Unemployment rate
Labor Force
Industry
Median Annual Wage
They then listed the 25 jobs with the best and worst job security based on unemployment rates. Read 24/7 Wall St.'s full methodology here.
Here are the 25 jobs with the lowest unemployment rates:
Dentists – 0.1%
First Line Supervisors of Police and Detectives – 0.3%
Veterinarians – 0.4%
Diagnostic Technologists and Technicians – 0.4%
Computer Network Architects – 0.6%
Directors of Religious Activities and Education – 0.6%
Physicians and Surgeons – 0.6%
Nurse Practitioners – 0.7%
Statisticians – 0.8%
Aerospace Engineers – 0.8%
Chiropractors – 0.8%
Respiratory Therapists – 0.8%
Court, Municipal, and License Clerks – 0.9%
Database Administrators – 1.0%
Police and Sheriff's Patrol Officers – 1.0%
Clergy – 1.1%
Lawyers – 1.1%
Public Relations Specialists – 1.1%
Physical Therapists – 1.1%
Medical and Health Services Managers – 1.2%
Psychologists – 1.2%
Dental Hygienists – 1.2%
Eligibility Interviewers For Government Programs – 1.2%
See Also: The 25 Highest Paying Jobs In the US
Here are the 25 jobs with the highest unemployment rates:
Actors – 26.1%
Construction Helpers – 22.3%
Telemarketers – 22.1%
Roofers – 14.8%
Packers and Packagers – 13.6%
Graders and Sorters, Agricultural Products – 13.4%
Tax Preparers – 12.7%
Carpet, Floor, and Tile Installers and Finishers – 12.3%
Crossing Guards – 11.8%
Construction Laborers – 11.5%
Refuse and Recycleable Material Collectors – 11.4%
Counter, Cafeteria, Food Concession, and Coffee Shop Attendants – 11.3%
Cutting Workers – 10.9%
Grounds Maintenance Workers – 10.6%
Computer Operators – 10.1%
Models, Demonstrators, and Product Promoters – 10.1%
Hand laborers and Freight, Stock, and Material Movers – 9.8%
Cleaners of Vehicles and Equipment – 9.8%
Cashiers – 9.8%
Cooks – 9.7%
Brickmasons, Blockmasons, and Stonemasons – 9.3%
Door To Door Sales Workers and News and Street Vendors – 9.2%
Sewing Machine Operators – 9.1%
Food Preparation Workers – 9.0%
Dishwasher – 9.0%
See Also: The 25 Lowest Paying Jobs In The US
Based on this information, what type of job are you going to pursue? Jobs with higher job security typically require more training and more education, but therefore these skilled jobs also pay higher wages. Many of the jobs with lower job security are in higher demand because there is less skill involved, but this also can means lower wages.
Use these lists of the best and worst jobs for job security to your advantage in the job search. Set yourself up for long term success and choose a job that provides the job security you need to enjoy in your life.
Are you ready to find a job? Start your job search on the JobMonkey JobCenter today.