Dentist Careers
Dentists examine, diagnose, and provide treatment for problems involving their patients' teeth or mouth area.
They conduct oral checkups, fill in cavities, straighten crooked teeth, and repair teeth that have been fractured to due an accident or injury. Part of a dentist's job may be to extract teeth or perform surgery on gums. They may also make models so that a patient can get fitted for dentures.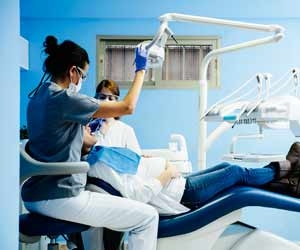 The dentist will counsel patients on the proper way to brush and floss their teeth. For some procedures, the dentist will need to administer anesthetics. They can also write prescriptions for antibiotics and pain relieving medications.
Many dentists practice on their own, but some of them belong to a practice group with a number of other dental professionals. There are also employment opportunities with hospitals or corporations for dentists.
If you decide to establish your own dental practice, you will be setting up a small business. You will need to be able to deal with hiring staff, dealing with accounts receivable, ordering supplies, and managing your overhead.
Training to Become a Dentist
The education path to become a dentist involves getting a Bachelor's degree with an emphasis on biology, chemistry, and physiology. After completing the requirements to get a B.A., the next step in the process is to go to Dental School for four years. The last two years of Dental School are spent in a clinical setting under the supervision of a licensed dentist. After you have obtained your Doctor of Dentistry degree, you will still need to pass an exam to get licensed in the state you wish to practice in.
Dentist Salary Information
The median salary for dentists is $147,010, not including bonuses or benefits.
Employment Trends for Dentists
Job prospects will be good for dentists, due to the number of practitioners expected to retire over the next several years. In fact, the number of new dentists is not expected to keep up with the demand for services over the next 10 years.