Airports are exciting places. These transportation hubs are constantly buzzing with travelers en route from one destination to the next. Airports are like small cities that employ countless people to do all sorts of cool jobs. Why don't you apply for jobs at an airport near you?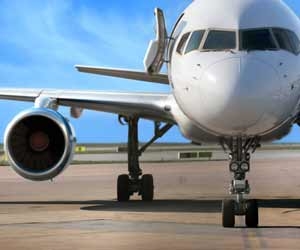 There are over 40,000 airports in the world and they all need hard workers like you to ensure that things run smoothly. Every day people head to airports to earn their paycheck. These airport workers get paid to be ticket agents, ground service, baggage handlers, security, TSA agents, gate agents, truck drivers, fuelers, retailers, food & beverage positions, line people, station agents, and so much more. Did you know that you can learn about any of these airport jobs and more at JobMonkey.com? Use this free resource to your advantage and you'll be able to focus your job search on the perfect airport jobs for you.
Working for Airlines and Airports; The Good and The Bad
If you're keen to work in an airport, you might as well find jobs at one of the best airports in the world. When we stumbled upon the 2017 World Airport Awards published by Skytrax, we knew we needed to share the results with you. Skytrax compiles the list of the best airports in the world based on 13.82 million airport survey questionnaires that are handed out at 550 different airports worldwide. The survey looks at the overall traveler experience including "check-in, arrivals, transfers, shopping, security and immigration through to departure at the gate." If you're a traveler, you know this is important stuff. If you're a job seeker, why wouldn't you want to work for the best?
Below you'll find the top 30 of 100 best airports in the world according to Skytrax:
Singapore Changi
Tokyo Intl Haneda
Incheon Intl Airport
Munich Airport
Hong Kong Intl Airport
Hamad Intl Airport
Centrair Nagoya
Zurich Airport
Heathrow Airport
Frankfurt Airport
Amsterdam Schiphol
Kansai Intl Airport
Vancouver Airport
Narita Airport
Copenhagen Airport
Brisbane Airport
Helsinki Airport
Shanghai Hongqiao
Cape Town Airport
Dubai Airport
Taiwan Taoyuan Airport
Auckland Airport
Sydney Airport
Vienna Airport
Beijing Capital Airport
Cincinnati/Kentucky
Hamburg Airport
Denver Airport
Cologne/Bonn Airport
Melbourne Airport
Visit WorldAirportAwards.com to see #31 to #100 in the world's best airport rankings..
Which of these airports would you want to work at? Every airport hires people directly, but one of the best ways to find a job at one of the best airports in the world is to apply for jobs with airline employers. Here's a selection of airlines that regularly post jobs on the JobMonkey JobCenter:
Hopefully this list will jumpstart your job search for jobs at airports. Airports have a constant demand for hard workers who go above and beyond the call of duty to ensure the traveler experience is top notch. If you have what it takes to make a difference in the airport industry, then search and apply for jobs at one of the best airports in the world. Best of luck!
See Also: