Working for Airlines and Airports – The Good and Bad
Whatever your position, working for an airline or at an airport is not always easy. You'll be on the go at all times. Because the air industry is one that lives and dies by customer satisfaction, you'll be expected at all times to work quickly and efficiently under deadline pressure.
You should also be prepared for long hours and, depending on your position, long periods away from home. Many air carriers require pilots, reservation sales agents, and flight attendants to relocate to their operation hubs or cities with major airports. The irregular schedules and jet lag can cause fatigue and even job burnout.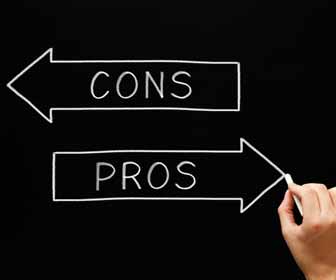 Certain positions, such as cargo handler jobs, maintenance mechanic, and ramp agent, can be physically demanding. As a ramp coordinator explains:
It can get into some pretty hard physical labor. It can be dangerous. You are working in close quarters with all different kinds of machinery. It's loud.
In addition, you must be prepared to work hard before you're able to move out of your first position. The air industry is competitive, and with the demand for upper-level jobs outweighing the number of positions, you'll truly have to stand out in any one position before you are offered a promotion.
In the words of a longtime airline employee:
A lot of people who come into an airline position see themselves moving up the ladder right away, but the reality is there aren't a lot of positions above them, so there's a lot of competition. They think they're on the fast track and they'll only be at their job a little while before they are promoted, and when that doesn't happen right away, people get frustrated. So you need to make sure you can be happy doing the job you're hired for if you want to make a career for yourself.
Similarly, working for an airport can mean long and demanding hours. An airport is very customer service oriented, and you are part of the team that keeps an airport comfortable, clean, and user-friendly for visitors.
Although there is not as much customer interaction as there is working for airlines, the customer still comes first in the airport. Working conditions vary according to the size of the airport and the type of position held. Some workers sit in an office all day while others are out and about in the airport, dealing with travelers, answering questions, and giving directions.
Customer Demands
Flights don't always go off as planned, and when that happens, nearly all employees are affected. Flight attendants, customer service agents, ramp agents, ticket agents, and other workers must deal with difficult passengers, poor weather conditions, emergency situations, and delayed flights.
As a flight attendant explains:
In your flight attendant career you'll have to deal with a disgruntled customer so you'll have to be a good mediator and stay pleasant under duress.
Customers get cranky when their plans are off schedule, baggage sometimes gets lost, and flights on occasion must be canceled or rerouted. Through it all, airline employees are expected to keep an upbeat attitude and provide excellent service.
As an airline customer service manager says:
The drawbacks of the job are that you have to deal with irate customers for something you had nothing to do with. You have to be able to respond to their frustrations without getting personally involved.
A former airline customer service representative adds:
You have to be really customer service oriented. Most airlines strive for that. You have to listen to people.
Furloughs & Layoffs
Another complaint among airline employees is the risk of being laid off or furloughed.
With the recent uncertainty and upheaval in the air industry, new hires can be susceptible to layoffs, though as employees gain seniority and experience their job security steadily improves, thanks to union agreements with most airlines. Being laid off means your employment with an airline or airport is terminated. Being furloughed means you are still an employee but there is no work for you. You are entitled to draw unemployment while waiting to return to work. The advantage of waiting out a furlough is that when called back to work you will retain your seniority. If you leave for a job at another airline you will be forced to start over with that employer.
An industry insider who has weathered over thirty years in the business explains:
The cost of operating airlines is such that there can be big layoffs. If an airline has to downsize they go strictly by seniority. That's one of the drawbacks.
Work Schedules
Airline and airport employees have some of the toughest schedules of any industry. Because of the round-the-clock nature of the industry, workers in all divisions of airline companies and at airports – from pilots to cargo handlers to customer service representatives – work evenings, weekends, and holidays. This is perhaps one of the most difficult aspects of air industry work to get used to.
As a former airline employee explains:
Don't expect it to be glamorous. It's hard work. You really have to be ready for anything. You might be asked to start work at 5am or finish work at 1am.
And as the hiring manager of a large international airport reminds applicants:
An airport is a 24-hour operation. We are like a mini-city, and things don't just stop when the sun goes down. Those just coming on can be stuck with night shifts.
Weather Conditions
Certain positions within the air industry are particularly strenuous. Many employees working in the airport, especially those on the airfields, are required to carry on their job functions in all types of weather. Ground service personnel must be prepared to load and unload baggage, fuel up an aircraft, and operate various machinery even in very low visibility weather conditions; flying schedules must still be running as close to smooth as possible even in a lightning storm or blizzard.
One ground services employee is quick to warn:
Many new hires leave after a few months because they were expecting that it would just be standing on the field with some flags and directing airplanes. People have to realize that ground service personnel often have to do a lot of physically strenuous activities in various weather conditions, especially in certain areas of the country. If it's snowing one day you can't just say that you don't feel like working.