Airport Truck Driver Jobs
Airports have various needs that require that a truck (or trucks) make deliveries from time to time. Nearly all airports have some airport truck driver jobs and there could be an opening for a truck driver at an airport near you.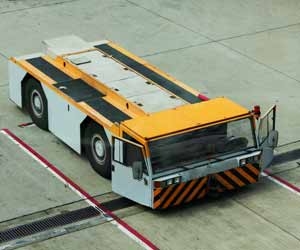 One such need is for a fuel truck driver, which delivers fuel to the various aircraft flying in and out of the airport. Other trucks or vehicles may include buses, food trucks, and more.
The Bureau of Labor Statistics is expecting the number of commercial passengers and cargo to greatly increase in the next few years. This would mean the creation of more jobs at most airports, and it would also provide job stability and longevity. There would also be opportunities, especially at larger airports, to move up the ladder.
Job Responsibilities
The vehicle that you are driving at the time will determine what the responsibilities are. It is quite possible that you may be required to drive a number of different vehicles, each one having different functions. Airport truck drivers would most likely drive vehicles such as food trucks, ramp stand, employee buses, conveyors, cleaning equipment, fuel trucks, and other equipment. The equipment is driven to and from the aircraft. At the aircraft the driver is often responsible for operating the machinery as necessary to get the job done.
A fuel truck driver, for instance, would be responsible to receive and dispatch different fluids to the aircraft, such as jet fuel, diesel fuel, avgas, gasoline, and glycol. They would also be responsible to test the fuel for quality, and to perform some maintenance on the vehicle, airport equipment, and the facilities involved. They would also make safety checks, enter information into computer systems, and help maintain equipment to government standards.
Did You Know? The JFK airport in New York City employs about 35,000 people – as much as a small city.
Some airports have trucks that service the lavatories on the aircraft. Driving these trucks may be a full time job at a larger airport.
Job Requirements
Drivers must be able to work in all kinds of weather conditions all year round, and to be able to drive carefully around aircraft that are worth millions of dollars each. They also need to be in good enough condition to handle the physical work. This requires being able to repeatedly be able to lift or move up to 50 pounds. They can also expect to be working around loud and continuous airplane engine noise. If you work on a fuel truck, you would need to be able to tolerate fumes from the fuel.
Getting airport truck driver jobs means that you can expect to work on any shift. It will also include night work, and working on weekends and holidays.
Training & Degrees
There will usually not be an education requirement higher than a H.S. Diploma or a GED. No special training is usually required, except that some airports will expect you to have a CDL and a good driving record. You may also need to have a couple of years driving experience, too. You will be expected to be able to read and understand manuals and documents relating to the equipment you will be driving or operating. You should also be familiar with computers enough to fill out reports and correspondence, and have some communication abilities.
It will be necessary to have a background check that goes back a minimum of 10 years. Your record will need to be free of any criminal history. You will also need to pass a drug test. Other certification from government agencies may also be required.
Salary & Benefits
The benefits that come with airport truck driving jobs will vary with the size of the airport. In most cases, however, you can probably expect to get medical, dental, and vision insurance, paid vacations and sick days, a retirement plan (probably a 401k), and more.
The average starting salary would be similar to other ramp personnel which is somewhere between minimum wage and $14 an hour. There is opportunity for advancement, especially at larger airports. At many airports, ramp personnel and baggage handlers drive a number of vehicles, too, but they will also have to handle the baggage which may be up to 75 pounds.
Quick Summary of Airport Truck Driver Employment:
Airports employ truck drivers for some of their many vehicles.
It is an entry-level position, but a CDL may be required.
It may be full or part-time work.
It offers the possibility of advancement.