How to Get a Flight Attendant Job
Airlines look for applicants who are fluent in English, have good communication skills, and have some previous employment experience. Foreign language skills can be a great asset, and are even required on certain international flights.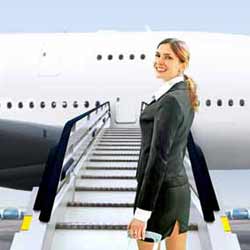 Applicants also must be eligible to work in the United States if they're applying with a United States-based airline; Canadian airlines require applicants to be eligible to work in Canada.
In addition to the minimum requirements listed above, airline recruiters look for a variety of desired qualities and experience in an applicant. There appears to be a trend toward hiring more mature, well-rounded individuals. A four-year college degree is extremely helpful and may be required by some airlines in the near future.
Experience working with the public is a great asset. It shows the airline that you can deal tactfully with passengers and have good communication skills, both of which are crucial for work on board an aircraft.
A flight attendant stresses the importance of self-confidence:
To be a flight attendant you need to be independent because there's really no supervision once you're on the aircraft. You have to be self-motivated and outgoing and friendly and patient.
By all means, stress on your application any experience in public relations. This can include previous work as a waitperson or bartender, sales clerk, telemarketer, counterperson, or any of a variety of similar jobs. Heck, even having had one or more retail jobs won't hurt. Don't forget any volunteer work , such as working for a political campaign, school committee, church, fraternity or sorority, or community service program.
As with other entry-level airline positions, applicants should write a cover letter requesting an application from the airline. Most hiring is done at the home office of the airline. Make sure to include a stamped, self-addressed envelope with your typewritten letter describing the position you're seeking.