Horses are beautiful creatures. For thousands of years, these stunning animals have played a major role in human history and have ultimately shaped the world we live in now. Today, horses are used for wide variety of purposes around the world – and that means plenty of jobs for horse lovers.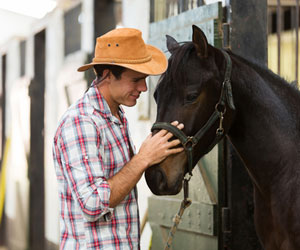 The horse industry, which is also known as the equine industry, is big business. Let's take a look at a few horse industry facts from RideWithQuo.com:
There are 9.2 million horses in the US.
The states with the most horses are Texas, California, Florida, Oklahoma, Kentucky, Ohio, Missouri, North Carolina, Colorado, and Pennsylvania.
7.1 million Americans are involved in the equine industry as owners, service providers, employees and volunteers.
450,000 people have full time equine jobs.
The equine industry has a total impact on GDP of $101.5 billion.
According, to OKCareerTech.org, the horse industry includes "more than just horses—it encompasses feed, tack and equipment, publications, veterinary care, advertising, clothing, education, and many other fields that are either directly or indirectly affected by the equine industry." This includes recreation, work, rodeos, racing, and other niches too. When you combine all of these things, it's easy to see why the horse industry is such a massive and important niche for our society.
If you love horses, why don't you focus your job on the best jobs for horse lovers? Here are few employment opportunities in the equine industry that might interest you:
Horseback Riding Trail Guide
Farrier
Stable Hand
Riding Instructor
Mounted Police Officer
Horse Sitter
Broodmare Manager
Bloodstock Agent
Horse Trainer
Rodeo Crew
Stable Owner
Carriage Driver
Cowboy
Ranch Hand
Saddle Fitter
Stunt Rider
Horse Photographer
For an even more extensive list of jobs for horse lovers, please visit TheEquinest.com or WestFallHorsemanship.com.
Almost all of these jobs for horse lovers will require that you have some experience or background working with horses. Are you determined to work in the horse industry? Learn how to gain the necessary experience to compete in the job search. You may be able to get your foot in the door by searching for entry level jobs with farms, stables, or dude ranches.
If you're really keen to find one of the best jobs for horse lovers, there are lots of horse specific job boards where you can focus your search. We highly recommend starting your horse job search on JobMonkeyJobs.com.
Best of luck!
See Also: