Become a Horse Racing Jockey
Horses are beautiful animals. They are used for all sorts of things, but one of the most glamorous things a horse can do is race. Every year there are 1000s of races around the world and on the back of every horse is a jockey. A jockey's job is to race a horse from the starting gate to the finish line as fast as possible. If you don't know much about jockeys watch Jockeys on Animal Planet. It's a good opportunity to see if this could be the career for you.
Jockeys need to be knowledgeable about breeding, training, performance, and what conditions are ideal for each horse.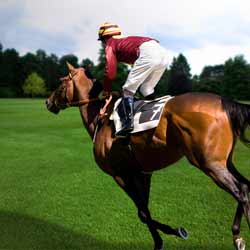 A good grasp of horse anatomy, breathing, grooming, shoeing, and maintaining equipment is essential too. Often jockeys get their start working at barns, stables, and racetracks as hot walkers or groomers. Many jockeys attend jockey school, but the best way to learn is by apprenticing with a respected, professional jockey. A proper apprenticeship will teach you the ropes and prepare you for schooling races that will help you learn the rules of racing, safety, and how the race world works. Schooling races are formal training sponsored by racetracks and are required for jockeys to earn a competitive racing license. After you earn a racing license, you can begin to enter races professionally and wear the brightly colored outfits of the racehorse owner.
Jockeys need to watch races and horses constantly to learn skills that will benefit them on the racetrack. Before each race you enter, you plan a strategy to win based on the course, the conditions, and the competition. This is usually done in collaboration with racehorse owners and trainers. Jockeys have to meet weight requirements. To be a jockey you have to be small. Jockeys typically measure in around five feet and weigh about 100 pounds. You also need to be athletic and able to ride a horse well. In order to meet weight requirements, many jockeys suffer from eating disorders and starvation diets. If you make weight, you are eligible to race.
During the race, imagine sitting on top of a 1000-pound horse racing at speeds of 30-plus miles per hour surrounded by other giant horses and jockeys willing to do whatever it takes to win. If you fall, you could be trampled, crushed, or killed. On average, two jockeys die every year. If you are prepared to take the risks, plan on paying high insurance rates. Once a jockey is in the pro horseracing world, there are lots of races and lots of money. Big name jockeys will race nearly 1000 races each year. The more races you race, the more likely you are to make money. Unfortunately, you will only make money if you win.
If you don't, you'll be struggling to make rent.
Jockeys are usually paid a riding fee plus winning purse commissions. Riding fees vary from $30 to $100 per race. Purse commissions usually are 6 to 10% for 1st place and 1 to 2% for 2nd and 3rd places. If you are racing a big race like the Kentucky Derby, the Preakness Stakes, or the Belmont Stakes – a jockey can make millions of dollars for one win. Winning one of these races is a career highlight and could make you eligible for the Eclipse Award for Outstanding Jockey. All and all being a jockey is a thrilling career where you get to ride extraordinarily beautiful creatures really fast and if you're good, you'll make ridiculous amounts of money.
Quick Facts About Jockey Work
Job Title: Jockey
Office: Horse Stables or Racetracks
Description: Ride horse and try to win races
Certifications/Education: No formal education required.
Necessary Skills: Must meet weight limits. Strong, Knowledge of horses
Potential Employers: Horse Owners, Self-Employed
Pay: Average is $30,000 per year. Win commissions on race purses
Helpful Horse Racing Jockey Employment Links:
Search Racing Horse Jockey Jobs on JobMonkey
Jockey's Guild
BloodHorse.com
Breeders' Cup World Championship
Frank Garza Jockey School
National Museum of Racing and Hall of Fame