Are you an animal lover? Would you like to find a job working with wildlife? There are countless jobs out there where you get to work with lions, elk, bear, zebras, giraffes, monkeys, gorillas, dolphins, elephants, deer, snakes, sharks, eagles, and other wild animals. Why not find a job working with these incredible creatures?
When you work with wildlife you can find jobs enforcing hunting laws in the wilds of Alaska, training dolphins in Honduras, or breaking in wild horses in Idaho. There are so many cool jobs working with wildlife.  It's a highly competitive niche, but if you are focused, it's totally possible to land a job working with wild animals. Typically you'll need a degree and specific training. Then with a bit of luck and determination you can get your foot in the door of this super fun niche.
Here are 23 jobs where you'll be working with wildlife: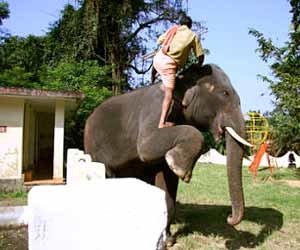 Wildlife Rehabilitator – Help wounded, injured, or orphaned animals return to their natural habitat
Game Warden – Protect and preserve wildlife and their habitats
Wildlife Photographer/Filmmaker – Take photos and film wild animals
Veterinarians – Care for and treat animals at zoos, aquariums, and nature preserves
Wildlife Educators – Teach people about different animals
Zookeeper – Tend to wild animals who live in zoos
Safari Guide – Take people on safari adventures
Animal Control – Deal with animals who are a bit of a nuisance
Wild Animal Trainers – Train wild animals to do tricks or act
Dive Master – Guide people into the underwater world to show them the creatures of the sea
Animal Actor Agent – Find animals for movie and television scenes
Apiarist (aka Beekeeper) – Work with bees to produce honey
Snake Milker– Get hands-on with poisonous snakes to create anti-venoms
Marine Biologist – Study wild animals in the marine world
Wildlife Biologist – Study wild animals on land
Park Ranger – Work in National Parks studying, protecting, and spotting wild animals
Wildlife Law Enforcement Agent – Protect and enforce laws that pertain to fish and wildlife
Dolphin Trainer – Train dolphins to do tricks
Elephant Trainer – Teach elephants to entertain people
Wrangler – Break in wild horses
Reptile Breeder – Breed and sell reptiles to the commercial market
Hunting Guide – Take paying guests to hunt big game
Animal TV Show Host – Work with animals on live television
These are all really cool animal jobs. Which one is the most appealing to you? Learn more about these jobs and others on JobMonkey. Many of these jobs are available through government agencies like the National Park Service, Bureau of Land Management, or US Fish and Wildlife Service. Also search for jobs with the Association of Zoos and Aquariums, outfitters, local government, or with other cool employers.
If you daydream of working with wildlife, make your dreams a reality. Stay focused and you could be earning your next paycheck photographing giraffes in Kenya, monitoring wolf species in Yellowstone National Park, or feeding lions at the Smithsonian National Zoo. Start your animal job search on the JobMonkey Job Board today.