Wrangler Jobs
As you're reading through this information make a note to check out the equine jobs page in our Working with Animals section.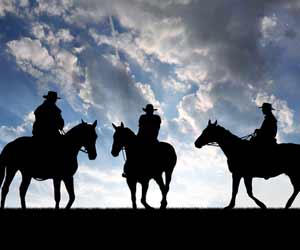 Wrangler Job Responsibilities May Include:
Other duties as assigned
round up the horses each morning
groom & tack
train horses
caring for sick and injured animals
guide guests on trail rides
give guests instruction in basic horsemanship, riding lessons and horse care
interact with guests to make each ride safe, educational, and fun
breakfast rides, steak rides, moonlight rides, and overnight pack trips
assist barn boss (or head wrangler) assign horse to guests to fit their skill level, experience, and size
assist head wrangler (or barn boss) assign guests into riding groups, using whatever criteria the ranch has established
eating meals with guests, visiting with them in the evenings and just being there for them when they have "horse" questions
leading children's arena games (with Children's Wrangler)
telling endless (clean) jokes and humorous stories
leading daily hikes and climbs
taking guests fishing
taking guests on off road jeep trips
providing or assisting with ranch entertainment (usually in the evenings) and assisting with children's programming (including weekly overnight kids campout)
both picking up candy wrappers, and teaching children the minimal impact ethic.
perform barn and tack maintenance
maintaining and cleaning tack, being sure all is safe and in good working order
maintaining facilities, corrals, arena, trails, grounds (manure happens)
trail maintenance
fencing and general ranch chores
managing manure inventory and placement
Maintaining vehicles and ranch equipment so they don't get broken
Fixing vehicles and ranch equipment when they do get broken
Fixing other broken things
Lots of housekeeping, yard maintenance, trash removal, dishwashing, toilets and related romantic cowboy stuff
JobMonkey has a lot of information about working as a wrangler. Be sure to use our site search to track down the material. Meanwhile, here are some more Wrangler Requirements:
be knowledgeable about horses, with horsemanship skills demonstrated, either through personal interview or videotape
dress western, appears neat
ambitious and hard working
positive attitude and strong work ethic
able to get along well with our guests (read this again)
go back and read the line above
familiar with riding in rough terrain
have a good sense of direction
Growing up with animals of all types is a definite asset.
experience with novice riders
knowledge of safety standards for horse care and handling and equipment used in horse care
First-Aid and CPR certification
camp cooking and packing skills a plus
Most, but not all ranches require you to be 18 years old
able to lift and carry 85 pounds a minimum of 100 feet while working at 8,000 feet altitude
drive vehicles with stick shift
Must be able to communicate to the public with tact and clarity, and exhibit a patient and knowledgeable attitude with horses.