The History of Makeup Artistry
Since as far back as the days of Cleopatra to today's multibillion-dollar beauty industry, cosmetics – makeup – has been a large factor in creating a certain standard of beauty. Throughout history, typically someone of power or wealth would use copper or lead or even the leftover smudge of a burnt match to create "color" and beauty to enhance their appearance. Trends varied and thankfully, so did the evolution of cosmetics. Nowadays we have makeup that has to undergo rigorous testing and safety measure to give women and artists the materials they need to create a certain look or merely emphasize a feature that won't be harmful to the skin. Rather than having to use leeches to draw the color from your face, you can just use a lighter foundation or instead of using blood to color your lips, there are thousands of lipstick shades to choose from. The worse side effect is perhaps a rash or an allergic reaction. Chemicals are carefully chosen and tested to create the makeup of present day. Through the course of time, makeup has been utilized to bring out a woman's beauty or create a theatrical character. It conveys emotion, instills confidence, and captures your attention.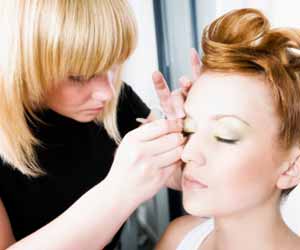 So now that we have a little bit of makeup history under our belt, what about makeup itself? How do you take it to the next phase? Sure, applying makeup on yourself is fun but what if you really like doing makeup on others? That is where a makeup artist is born. Beauty and fashion and the growing trends in what is deemed beautiful or fashionable have no doubt been a large influence in all of our lives. Makeup, hair, fashion – all part of a series of things we do to have self-expression. There are some rules, some guidelines, but in general we look to magazines and television, film, and art to give us direction. It's unavoidable – a magazine cover or a commercial or an actress that looks flawless. It's no mistake. Through a healthy skincare regime, drinking plenty of water, and knowing HOW to use makeup, a beautiful person is created. That is not to say beauty isn't natural because beauty is not makeup. Makeup is the tool in which we use to enhance our natural beauty. There are numerous ways to express art through makeup and that is why makeup artists are referred to as artists and not makeup applicators.
The job of any makeup artist is to look at a blank face and see its potential. See the extraordinary bone structure or the big glorious shape of the eyes or recognize full, beautiful lips. A makeup artist should never just see a face. A face should be their canvas.
Remember, makeup artists are artists. Plain and simple. They can see a face and see the beautiful features – what should be emphasized, what should be toned down (at least a good makeup artist) and it takes creativity, talent, and the mindset that everyone has something beautiful about them to succeed. There are thousands of ways to use makeup as art but in the professional world, the leading jobs doing makeup are conveyed through salons, photography, special events, film and television, fashion, and visual art. A makeup artist has an array of avenues in terms of training.
To work in a salon or a day spa an artist should be required to hold a Cosmetology license or an Esthetician license. In order to obtain a license you have to study and complete 800-2,400 hours of training and practical application depending on the school, state requirements, and the license type. In order to work in Print or Film and Television, a makeup artist should take specific training in that field. Technical makeup application training is necessary, especially in the world of Entertainment and Fashion. There are so many things an artist needs to have an understanding of before beginning to work in those fields and a good school and thorough practice and training will do that.