The High Five: Essential Equipment for Kayaking
All a kayaker needs to paddle is a high five.
Not the kind of high five you give after a scoring a goal or crossing a finish line. This high five allows a kayaker to never forget a piece of gear ever again.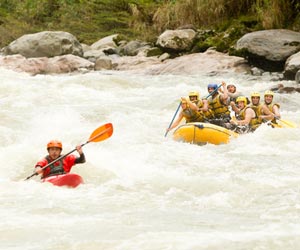 The degree of disappointment when a piece of gear is missing or fails is indescribable. Even if safely at the car preparing to paddle, a ripped neck gasket or forgotten helmet can be the end of the day. Even more dangerous, equipment failures while on a river can result in extremely unsafe endeavors of hiking through an unforgiving wilderness.
If a kayaker can just learn to count to five, none of this would ever happen.
As a kayak guide or instructor, it is essential that this is taught to novice boaters. Often in a clinic or commercial setting it is the instructor or guide's job to ensure that all equipment is present. Guests, therefore, are not accustomed to assembling their own gear and could benefit from knowing the high five secret.
The five essential pieces of gear every kayaker absolutely needs to descend a river safely are a personal flotation device or PFD, helmet, skirt, paddle and kayak. While other clothing items and safety gear are highly recommended, these five items can either make or break a day of kayaking. A good kayak instructor or guide will clue his clients into this trick, teaching them the importance of maintaining their equipment early.
The PFD is a prerequisite for any water activity. A kayaker can choose to use a rescue PFD which provides additional safety features for swift water rescue scenarios such as a releasable belt, reflective tape, and a quick access knife connection. Other PFDs are designed specifically for the movement and comfort of the paddle stroke. Flotation resides in the front and back panels, leaving the arms free to move without obstruction.
A whitewater helmet is often the first line of protection against severe injury for the kayaker. While being upside down on a river is not preferred, it does happen. Having a sturdy, shock-absorbing helmet between a head and a rock could save a life. Helmets range in styles and constructions depending on the level of intensity in the sport.
The kayaker's skirt seals the cockpit, preventing water from entering the boat. A skirt with holes or defects causes the kayaker instability and inconvenience with the intake of water. A quality skirt will have a rubber seal around the cockpit rim, be made with rip-stop Kevlar fabric and provide a snug fit around the kayaker's waste.
Many varieties of paddles are available to kayakers, depending on the type of kayaking and the personal comfort of the paddler. Different blade sizes and shapes allow for more efficient motion through the water. Lengths of paddles also vary and are generally selected based on the height of a kayaker. Some kayakers prefer hand paddles. These are large, flat pieces of sturdy plastic strapped directly to the hands of a paddler.
Finally, a kayaker needs a kayak. Not just any kayak, one that is selected and outfitted specifically for the kayaker. As a kayak instructor or guide, it can be difficult explaining to a novice the vast number of options in boats. Beginners are easily overwhelmed with styles and models, assuming that they must find the perfect one in order to excel in the sport. This is not true. Many models exist that will fit each person and no boat is absolutely perfect.
While the high five guarantees that your gear is present, it does not ensure that this gear will function properly. Regularly checking gear for defects and replacing broken or damaged pieces immediately is highly recommended.
As kayaks are tied to roofs and gear is loaded, it is not uncommon to see a kayaker quietly counting to five to double-check that these essentials have been gathered. This simple trick will prevent many spoiled river days.