Whitewater Rafting Guide Schools
All raft guide training programs are not equal.
Many are quick and informal, teaching a new guide the bare essentials to begin working. Others last for weeks, even months, and cover a broad range of material and skills necessary for many types of guiding. However, some stand out for other reasons, ranking them among the top of raft guide training programs in the country.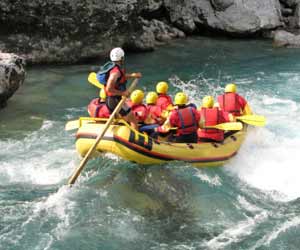 In Colorado, Raft Masters pride themselves on the intensity of their guide training program. They know that quality is preferable to quantity when training new staff and base their training on developing solid safety and river guiding skills. Guide training through Raft Masters means that a new guide will receive up to 100 hours of on-river training, nearly double the minimum 50 hours required of The State of Colorado River Outfitters Licensing Statutes and Regulations. For this reason, their program is one of the best on the Arkansas River, one of the most popular rafting destinations in the country.
Training through Wilderness Voyageurs in Ohiopyle Pennsylvania will not only provide new guides with extensive river safety and skills training, it will also build personal river skills.
Guide manager Ben Scoville comments that "becoming a river guide with Wilderness Voyageurs introduces you to the sport of whitewater, not just kayaking or rafting, but the whole enchilada."
Using on-water drills and rescue scenarios, Wilderness Voyageurs' guide training program builds self-confidence and respect through intense leadership training. They understand that a good raft guide should be able to manage a group well in addition to navigating through rapids.
The most extensive guide training programs are Esprit's WAVE and WILD programs.
WAVE, or Whitewater Adventure Education, spans over five weeks and covers everything a new raft guide needs to know. A new guide will learn to captain a raft on the famous Ottawa River in Canada as well as basic whitewater kayaking skills. Canoeing and Riverboarding techniques will also be covered as part of the on-water training. Students will earn Canadian guiding certifications that will allow them to work on rivers all over the world. Off the water, participants will earn the Wilderness First Aid medical certification and the Level 3 Swiftwater Rescue Technician, SRT, Certification. WAVE is one of the only guide training programs to include so many essential certifications and so much on-water training.
WILD is WAVE's bigger and stronger brother.
The WILD program, or Whitewater Intensive Leadership Development, prepares a raft guide to work anywhere in the world. This three month program begins on the Ottawa River in Canada where students will immediately receive the Wilderness First Responder and SRT certifications. Here, they will also begin developing their river guiding skills by tackling the Ottawa's classic whitewater in both rafts and kayaks. The second month is spent traveling through the eastern United States' top rafting and kayaking destinations. Over the month, students will practice guiding and rescue skills while also learning to read different kinds of water.
Mexico is WILD's final destination. For the final month, students will get actual international guiding training in a foreign setting. After developing skills for three months, students who had never been on a river find themselves descending difficult and technical whitewater with advanced technique and judgment.
Successful graduates of WILD find themselves at the top of most raft guide job pools and have a better opportunity to acquire international river guide jobs than any other new raft guide.
Raft guide training programs can be found in nearly every region. When choosing a program to start your career as a river guide, it is important to find a program that will provide the best training possible. By participating in an established and extensive program, a new river guide can find work anywhere, not just on the river where the training took place.