River Rafting Day Trips
Once you begin your path along the whitewater raft guiding track you will quickly come to find that there are many different types of river guiding options. Every river runs on a different schedule and every company provides different kinds of river trips to complement the river and the guests that come to experience it.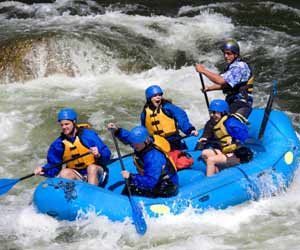 Raft trips can be broken into two main categories: daily and multi-day trips.
Daily trips are simply trips that begin and end on the same day. This category can be broken up further into even more different styles of river trips to suit any kind of adventure desired.
Many guests come to an outfitter with absolutely no river experience, much like many first-time raft guides. These guests may be drawn to the river after paddling a friend's canoe around a lake or fishing on its banks. They may just want to experience the sensation of floating on moving current. These trips are often known as float trips and can be found on Class I/II stretches of river.
A float trip will allow for a wider range of clientele to experience the beauty of river rafting, from ages as young as three years old to great grandparents. Many outfitters will market these float trips as more family-oriented trips for this reason. Parents will enjoy the time away from work and the television. Teenagers will take the time to work on their tans. Kids will bring squirt guns. Everyone is sure to walk away with a deeper connection to nature and a stronger bond with each other. Since there is no skill required, and often no physical requirements, this type of trip can accommodate anyone's ability levels.
As a raft guide, these trips involve greater personal skills and often a deeper knowledge of the environment and natural history of an area. At Wilderness Voyageurs in Ohiopyle, Pennsylvania, a Historic Float Trip guide will describe the history of the Youghiogheny River while rowing a crew of guests down a calm stretch of water. Their Middle Youghiogheny trips are perfect for the inexperienced guest. Raft guides will accompany guests in their raft, or simply paddle alongside allowing the customer to navigate his own craft under the safety and guidance of an experienced professional.
However, do not forget those customers who are looking for raw adventure on the river.
River rafting is not always pure serenity. Sometimes river rafting is jam-packed adventure, thrills, and excitement. Whitewater rafting trips can serve up as much or as little action as you can imagine.
Many outfitters do not require a customer to have any previous river experience on Class III/IV river sections. As a raft guide, your job is to prepare them as best as possible for the types of rapids they will see and the skill required in getting through them safely. The head raft guide, or trip leader, will give a safety briefing after guests have received their equipment. During this time the guides will demonstrate and explain the basic techniques for paddling a raft to their customers. This includes commands they will hear from the guide and safety procedures such as the proper way to swim in whitewater.
It is then a raft guide's job to captain the raft for the duration of the trip. As a unit, the group or rafts will descend rapids and enjoy the scenic views of the river. Guides typically pull over halfway to prepare their customers a gourmet river lunch. At the end of the day, the group will be picked up and taken back to the rafting outpost. Wearing warm, dry clothes the guests will thank their new river heroes, often leaving a tip, and go home to dream about their river experience. Raft guides, however, get to do it all again the next day. And then there is the crown jewel of all daily raft guide jobs: the high-adventure Class IV/V river trip.
From steep creeks to big water excitement, a river guide must be at the top of his game to safely descend a Class V river. Most companies require that guests have previous rafting experience and be in good physical condition to sign up for these trips. Similar to the Class III whitewater river trips, a guide will provide a river safety briefing. However, this safety briefing is full of more detailed commands and procedures. Due to the difficulty and higher consequence of the river, a guide must prepare his customers for anything.
To get a job guiding on a Class V river, a guide must have previous rafting experience. Many rafting companies require several years of guiding work to even train on a Class V river.
Nate Calhoun, Class V raft guide for Precision Rafting on the Upper Youghiogheny in Maryland says that pure practice allowed him to be able to guide on harder whitewater. He recommends that a new guide "start on easy whitewater and develop fundamentals, then apply what you have learned to harder and harder whitewater."
Nate also knows that while most of his guests are the "younger and more hardcore, adventure type" that a raft guide must occasionally work with guests that may not be fully prepared for the demanding nature of a Class V river trip. "It is not our job to turn them away, but to do our best and get them down the river." A true professional will have the skills necessary to escort any group of clients down safely.
The connection a guide makes with these guests may only last a few hours but it will remain with them for years to come. On daily rafting trips, a raft guide encounters many different people. Each new day is overflowing with opportunities and excitement for the daily raft guide.