Kayak Guide Jobs
You begin your workday by taking a deep breath of fresh, crisp air into your lungs as a wide smile spreads across your face. The sun is out and you are floating serenely on a river, through wilderness few others ever have the opportunity to see. Each stroke you take with your paddle reminds you of your connection to nature and the power and strength in your own body. Best of all, you are teaching these basic, but often hard to grasp, concepts to a group of new paddlers. Their eyes are wide with excitement and they are hanging on every bit of information you have to share.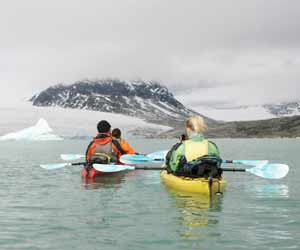 You are a kayak guide.
Beyond providing safety, hard skills and river knowledge; kayak guide jobs build character.
Whether a kayak instructor, kayak tour guide or safety kayaker; you are constantly sharing a passion for the outdoors with others. By skillfully paddling over a body of water in your own craft, you become a solid example of a confident and motivated person. People begin to look up to you and seek out your knowledge and advice.
Even a beginner a kayak guide can share these character traits and experiences with others.
There are many different types of kayak guide jobs. Whether you want to paddle the coasts of Alaska, the rapids of the Smoky Mountains or the Great Lakes; there is a kayak guide job for you.
For breathtaking views and the serenity of water, try exploring sea kayak guide jobs. These guides will share a stretch of water, from coastal inland seas to calm lakes, with a group of customers. They will provide basic paddling instructions, ensuring the safety and comfort of their guests first. However, a sea kayak guide is really an ambassador for nature. All through the trip he will educate and enlighten his guests with stories of the area's natural history and environment. Often all a sea kayak guide has to do is sit back and let nature do the work.
Many companies have basic guide training programs for individuals with little to no previous experience in a sea kayak. With a strong desire to learn and a passion for the outdoors, anyone can learn to paddle a kayak.
Kayak guide jobs can also be found on thousands of rivers throughout the country.
Outfitters hire kayak instructors to teach basic paddling and safety skills to new groups of clients. These sessions can be from one day to a whole week, allowing the customer to practice and advance their skills in a short amount of time. This type of instruction position requires that a guide have previous experience in his or her own kayak. As kayakers progress with their own skills, many want to share their new passion with others. A kayak instruction position is perfect for helping others experience the same joy you feel while you are paddling down a river.
For the less experienced paddlers, a safety kayak guide position might be the first opportunity to work out of a kayak. Most individuals begin to safety kayak after they have worked as a raft guide for at least one season. Raft guides learn to read a river and use basic paddling techniques that apply to kayaking as well. Mostly, they are exposed to a community where learning to kayak is almost expected. Many raft guides also kayak in their free time and are willing and eager to teach new raft guides. Rafting companies often encourage their guides to learn to kayak so that they will be more versatile as an employee.
At Wilderness Voyageurs in Ohiopyle, PA, the kayak instruction department allows new raft guides to demo kayaks for free so that learning is easier. In addition, veteran raft guides often hold roll sessions after work to teach beginners. These opportunities are simply perks that Wilderness Voyageurs offers to their new employees, creating a stronger sense of community between their guides.
For more experienced kayakers, positions to guide trips in exotic locations are available. Esprit Rafting hosts week-long kayaking trips based out of their winter outpost in the small town of Jalcomulco, Mexico. During this week, kayak guides will lead customers down exciting class III-IV rivers. This type of kayak guiding position is often more difficult to get, but not impossible.
If getting paid to paddle a kayak sounds good to you, there is sure to be an opportunity available.