Alaska Summer Work Opportunities
The state of Alaska is busy in the summer months, especially between mid-May and the end of September. According to the Alaska Department of Commerce, the volume of out-of-state visitors to Alaska in a typical year is about 2,000,000. The volume of summer visitors is a whopping 87 percent of the annual volume! The winter market made up 13 percent. For a job seeker perspective consider that 51 percent of visitors were cruise ship passengers,44 percent came to Alaska on an airplane, and 5 percent either drove to Alaska or came on the Alaska Marine Highway ferry.
Pretty solid evidence that Alaska's economy is heavily dependent on summer tourism. In addition to tourism, the fishing industry is very active during the summer months. JobMonkey is a great place to learn about the summer Alaska salmon industry, which needs thousands of workers between June and mid-September for harvesting and processing work.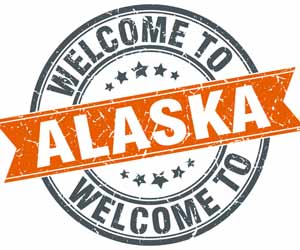 Alaska Fishing Jobs
Fishing jobs pay well, especially in good seasons, and some employers provide free or inexpensive room and board. Alaska fishing jobs are available on small, independently owned fishing vessels, on large floating processors, and in onshore processing plants. The majority of Alaska summer fishing jobs are available in:
Southeast Alaska: Sitka, Petersburg, Wrangell, and Ketchikan
Prince Williams Sound and Kenai Peninsula: Kenai, Homer, Seward, Valdez, Cordova
Kodiak
Bristol Bay: Dillingham, Bethel, Egegik, Naknek
If you're interested in working at an onshore processing plant for the summer, then it's important to start applying in March and April. Many employers have websites with online applications.
You can learn everything there is to know about Alaska salmon processing and harvesting jobs in our Alaska jobs section. We tell you what the jobs are like, when and how to apply for these summer jobs, how much you can earn, and provide detailed information about the salmon industry.
A summer job in Alaska's fishing industry provides a super opportunity to make good money in a short period of time and meet people from all over the country.
Alaska Summer Cruise Jobs
The Alaska cruise industry is absolutely booming. Did you see the tourism numbers above? Between May and October, especially, a number of major cruise lines bring thousands upon thousands of visitors to coastal towns in Alaska. The cruise lines must hire thousands of people in order to take care of all the passengers during shore excursions.
Southeast Alaska has the most popular cruise destinations. Many of the towns visited, such as Ketchikan and Sitka, have populations of 50,000 or less, but you wouldn't think so when there are 6 huge cruise ships in port. When those passengers disembark they go off to salmon bakes, trail hikes, halibut fishing trips, and jetboat journies. It takes an army of summer workers to take care of all the tourists who are in port all at once.
Summer jobs include:
Charter fishing boat deckhands
Tour guides
Fishing guides
Van and bus drivers
Retail shop staff
Harbor cruise staff
and more.
As you can imagine, it's possible to earn good money for the summer especially if your job includes a base wage plus tips. If you're outgoing, have a sense of humor, and are good at telling stories, then being an Alaska tour guide could be your calling! These are great jobs for college students who often return year after year until graduating.
Learn all about cruise jobs and Alaska cruise industry employment opportunities on JobMonkey.
Alaska National Park Jobs
While in Alaska, many cruise ship passengers find their way to national parks such as Denali National Park and Wrangell St. Elias National Park and Preserve. A majority of other Alaska tourists, those who go to Alaska on the ferry or by air, make it a priority to see Mt. Denali (August 30, 2015 – the mountain's name was changed back to Mt. Denali from Mt. McKinley) in Denali and as many glaciers and fjords as possible!
Consequently, there are great summer job opportunities within the boundaries of Alaska's beautiful national parks. Most of the jobs are found with companies operating park lodges and other concessions. These companies begin recruiting their staff, primarily from the lower-48, as early as November for the following summer. They look for:
Tour guides
Hotel staff
Food and beverage servers
Baggage handlers
Fishing guides
Cooks
In addition to the larger operations in popular parks like Denali, be sure to look into jobs with fishing lodges in more remote areas of Alaska. There are dozens and dozens of these lodges, and they all recruit staff for jobs that begin in May and end in mid-fall. Guests pay thousands of dollars per week to stay in these remote Alaska wilderness lodges but as an employee you can be there for free or next to nothing!
If you want to spend a summer surrounded by scenic beauty, with wildlife close at hand, then nothing beats Alaska. When you're not punched in and working, you and your newfound friends could be out fishing for salmon or monster trout, river rafting, or hiking. Since many employers provide free or inexpensive room and board, the opportunity to save much of what you earn is possible.
Summer Jobs in Alaska
There are many other kinds of summer jobs in Alaska. Be sure to read the information on JobMonkey and don't wait until June to start your job search.