How to Become an Archaeologist
So you've decided that you want to be an archaeologist…now what? How do you make sure that you're doing the right things, taking the right classes, and talking to the right people in order to have a successful career?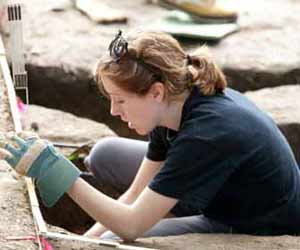 Here are some tips for setting your career off on the right track.
Make yourself marketable: Aspiring archaeologists may love archaeology, but not necessarily every aspect of it. Some archaeologists just want to dig in the dirt all of the time, others are fascinated by research, and still others are content to make maps all day using GIS (geographic information system). As in all careers, it's perfectly normal to love one aspect of your job and to shy away from another. Well, we've got news for you: employers want well-rounded employees.
While developing your career, try to get as much experience as possible in the diverse world of archaeology. As much as some tasks might disinterest you, they're all extremely important to getting a job in today's competitive market.
"I'm not fond of computers and technology," one struggling archaeologist has remarked, "so I didn't bother to learn about GIS when I was younger. But it seems like many job announcements require applicants to know GIS applications, and that has really set back my career."
Network: Like in nearly every other career, developing and maintaining professional connections is vital to your advancement as an archaeologist. The connections that you make with other professionals will be important throughout every step of your career. Your archaeology college professor may be able to land you your first field technician job, and a buddy that you met on an archaeological project might have another buddy that just so happens to be doing the hiring for your dream job. The possibilities are endless.
One of the most important ways for archaeologists to develop networks is by participating in professional conferences. You may show up to an archaeological conference knowing only five people and leave knowing twenty. And those twenty people may multiply to forty after you attend the next archaeological conference. Conferences are places to share research and ideas, but they are also meant to facilitate the cultivation of professional contacts and friends.
Be Ambitious and Ask Lots of Questions: Inquisitive and ambitious minds are a must for successful archaeologists. If you want to be an archaeologist, now is the time to set aside any shyness that you may have and to pick as many professional brains as possible.
College professors are excellent resources for beginning archaeologists and generally hold weekly office hours so that you can meet with them and ask as many questions as you want. Another great way to get information is to find professional archaeologists on the internet and schedule a time to meet and talk with them. If you're interested in geoarchaeology, for example, search the web for a specialist and see if you can meet with them or schedule a time to talk on the phone. And keep in mind that many professionals are happy to take a break from their daily tasks in order to talk with people who are interested in their career.
Be ambitious on the job as well. Try to expand your experience beyond the basic duties that your job requires of you. For example, let's say that you landed a job as a field technician that generally requires you to excavate a site and collect artifacts. View this as your chance to get experience with other aspects of archaeological research that might help you land an even better job in the future. Ask your boss what the objective of the project is.
Can you help map the site? Can she explain to you the research design for the project? This is the type of experience that you can tack onto your resume for career advancement, and keep in mind that bosses appreciate employees who take an active interest in their company's or organization's goals.