GIS Careers
Geographic Information Systems, or GIS, are computer systems that are capable of capturing, managing, analyzing, and presenting geographic data.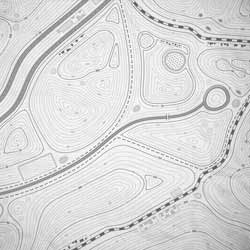 Put simply, GIS is a technologically-advanced method of creating maps and analyzing the data that is represented in them.
GIS has become extremely important to archaeological research in recent years because of its power to process large volumes of multiple data sets, link the data to maps, and to help analyze and understand the relationships between the data. Most aspiring archaeologists are strongly encouraged to familiarize themselves with GIS capabilities, or better yet, to actually learn how to use the software.
Job Responsibilities
In the archaeological field, GIS specialists are often hired by cultural resource management firms and federal, state, and local governments to manage and analyze data for GIS applications. Generally speaking, data is analyzed by grouping similar data into "layers" and merging different layers to look for relationships. For example, a GIS specialist might take a topographic map as a base layer and place other layers like bodies of water and archaeological site locations on top of it in order to analyze geographic and cultural relationships.
By doing this, the specialist has the ability to infer the possible locations of archaeological sites.
GIS specialists have a number of responsibilities related to managing and analyzing data from archaeological sites. These duties often include:
Incorporating, editing, and maintaining field data in GIS databases
Producing maps to be used for survey and report production
Devising approaches for archaeological data analyses
Collaborating with archaeologists and other professionals to determine project requirements and data needs
Operation and maintenance of GIS and GPS (global positioning system) data collection devices both in the field and in the office
Conducting research to locate and acquire existing databases
Presenting information to professionals and answering questions regarding GIS analysis
Education and Training Requirements
GIS specialists are generally required to hold at least a bachelor's degree in geospatial information systems, geography, anthropology, or a related field, with a focus on GIS. Many employers desire workers with a strong background in computer applications and experience with GIS software. Many universities offer courses specifically designed to train GIS specialists, such as cartography and statistics, and some schools even award GIS certificates to students who have completed the required coursework and training. Successful GIS specialists are expected to have the ability to communicate effectively both orally and in writing in order to produce detailed reports and to be proficient in math and statistics in order to analyze data.
Salary and Advancement Opportunities
Depending on experience and location, GIS specialists earn an average annual salary of approximately $40,000 to $70,000. Many specialists start out as technicians and work their way up as their experience increases. Experienced GIS specialists in larger firms and organizations may advance to supervisory or managerial positions. Some specialists may choose to work as independent contractors and serve as GIS consultants for private companies in need of their services.
Job Outlook
According to the Bureau of Labor Statistics, the job market for GIS specialists is predicted to grow significantly in the coming years. As the importance of technology continues to grow in our society, so does the demand for technologically-trained individuals. Archaeology, among other fields, has and will continue to embrace the utility, accuracy, and cost and time effectiveness that GIS brings to its research.
Online Resources
USGS Geographic Information Systems Information Page
The Guide to Geographic Information Systems
The GIS Lounge
MapCrusin.com