Become an Underwater Archaeologist
Underwater archaeologists, or marine archaeologists, do exactly what their title suggests – archaeology underwater. Humans have been traveling waterways for centuries, and the remains of their activity that have been left behind on the floors of oceans, seas, lakes, and rivers provide valuable insight into the past.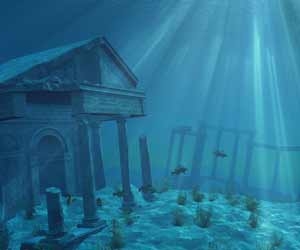 Underwater archaeology challenges researchers to carry out their investigations in a complex and often unpredictable environment, and the process can be very rewarding.
Most underwater archaeologists study nautical archaeology, or the study of historic and prehistoric ships and all things related to them. Thus, the shipwreck is the most common underwater archaeological site. Other sites that underwater archaeologists might investigate are sunken harbors and docks, or coastal towns, cities, and dwellings that are now underwater.
Work Responsibilities
Although underwater archaeologists generally use the same research and field methods as other archaeologists, their work environment requires them to make use of special equipment and tools. The first thing that an underwater archaeologist needs right off the bat is scuba equipment and dive training. In addition, underwater archaeologists utilize special tools and techniques adopted from marine scientists and commercial divers to carry out research in their aquatic environment. For example, underwater archaeologists use magnetic and acoustic remote sensing equipment to locate inundated sites, and acoustic, infrared, and optical equipment to study and record them.
JobMonkey has a whole commercial diving job section you should review.
In addition to operating such technologically sophisticated equipment as remote sensing devices, underwater archaeologists are often responsible for such duties as:
Handling, analyzing, and recording waterlogged remains
Conducting research using ship logs and manifests, explorers' accounts, and legal records
Writing reports and management recommendations
Navigating boats to archaeological site locations
Presenting research findings to both academic audiences and the public
Writing books and/or articles for academic journals
Education and Training
Since this is a highly-specialized and somewhat obscure field, only about fifteen universities nationwide offer degrees in underwater archaeology. Most underwater archaeologists have a master's or a doctorate degree in anthropology and gain extensive experience in a range of other disciplines related to the field, such as oceanography, history, geology, and chemistry.
In addition to earning an advanced degree, underwater archaeologists must develop field experience both on land and underwater. The first step to gaining underwater experience is to enroll in a dive training course in order to become a certified diver. From here, one can begin their training as an underwater archaeologist by enrolling in an underwater archaeology field school.
Salary and Advancement Opportunities
Annual salaries vary greatly for underwater archaeologists, ranging from $30,000 for lower-level technicians to $90,000 for upper-level management and academic positions. Pay largely depends on level of education, training, experience, location, and budget. Advancement opportunities are difficult to assess for underwater archaeology due to the obscurity of the field and the scarcity of full time positions.
Job Outlook
Underwater archaeologists generally find employment in academia, state and local governments, and private organizations. Full time permanent jobs as an underwater archaeologist are very difficult to come by. Individuals interested in becoming an underwater archaeologist are encouraged to make themselves more marketable through:
A significant amount of underwater training
Increasing and expanding diving qualifications
Gaining experience in skills that are important to underwater archaeology (such as navigation and remote sensing)
Choosing a unique specialization within the field
Online Resources
Advisory Council on Underwater Archaeology
Maritime Archaeological and Historical Society
Institute of Nautical Archaeology
National Oceanic and Atmospheric Administration's Maritime Heritage Program