Be a Volunteer Archaeologist
Volunteering for an archaeological project is an excellent way for people to gain hands-on experience, to find out if archaeology is the field that they really want to pursue, or just to have some fun digging around in the dirt. Whether you are a young student trying to sort out your career path, or a retiree with a knack for history and the outdoors, volunteering on an archaeological project can be a very rewarding experience.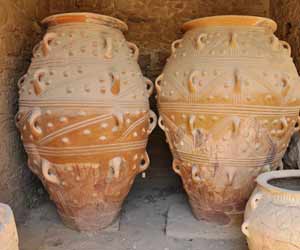 Many people harbor concerns that they need to have experience in order to volunteer on an archaeological project. This is not the case. There are two main reasons that the directors of some archaeological projects incorporate volunteers into their fieldwork:
They want the public to become involved in understanding and unearthing archaeological finds.
They need your help!
Volunteer muscle is sometimes the only way to complete a project in which funding has otherwise dried up. The professionals will take care of the technical aspects of the project, like research design, interpretation, and preservation, but the volunteers get to roll up their sleeves and put the muscle into the work!
Depending on where your interests lie, archaeological volunteer opportunities can be found through a variety of different organizations, including:
Interested in the archaeological past of your home state? Try contacting an archaeologist in the anthropology department of a university located in your state. Want to help take care of artifact collections in a lab? Many museums are happy to take on eager volunteers.
One popular archaeological volunteer program located within the United States is called "Passport in Time," or PIT, and is run by the Department of Agriculture's National Forest Service. Through PIT, volunteers get the opportunity to work with Forest Service staff to conduct archaeological research throughout the national forests. Participation is generally free and can last anywhere from a couple of days to about a month.
Is volunteering abroad more up your alley? Archaeological volunteer opportunities can be found all around the world. Just remember to be prepared for the obstacles that can sometimes entail traveling and working abroad. Most importantly, make sure that you have a valid passport and that you have obtained the permission and clearance that many countries require of foreign workers. In addition, be sure to purchase travel medical insurance, and check to make sure if you need any vaccinations prior to traveling to your country of choice.
Whether you choose to volunteer in the United States or work abroad, there is one constant in choosing a volunteer program: do your research! Be sure to find out how much, if anything, the program will cost, how long the program will last, and what type of accommodations you can expect.
In addition, be sure to contact the program director regarding what type of clothing and equipment you should bring, what type of schedule you'll be working, and what sight-seeing opportunities you might have on your off-time.
Finally, don't just show up at an archaeological site to volunteer. This can create legal issues that will make the supervising archaeologist want to pull out her hair. Contact the program director, officially sign up as a volunteer, and THEN get to work.
For some archaeological volunteer opportunities, check out these websites:
Archaeologyfieldwork.com
Charity Guide
Council for British Archaeology
Past Horizons