Start Earning Money As A Freelancer Online
Are you ready to forget your boss and to escape the office? Would you rather create your own schedule, work when you want, and still earn a solid paycheck? Why not find your next job online as a freelancer?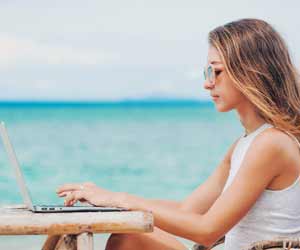 Millions of people make their living by freelancing. By capitalizing on their professional, technical, and creative talents and skills, these entrepreneurial professionals are able to make a living via online freelance marketplaces such as:
These sites and apps connect clients with freelancers who provide digital services for a price.
With the recent boom in technology, the world of freelancing is thriving. It's the ultimate way to make a living because you can live anywhere in the world and still have a job – as long as you have an Internet connection. Get involved in the online freelance marketplace and you could easily earn your next paycheck from a hammock on the beach, the comfort of your own couch, or from the local coffee shop. It sounds perfect, right?
Let's take a quick look at how freelancing works: An aspiring freelancer signs up for a free account with an online freelance marketplace. They then set up a personalized profile page that allows them to market their talents, portfolio, references, experience, and so forth. This profile page is their main marketing outlet and is now the face of their freelancing business.
Meanwhile, an eager client who needs work done ASAP logs on to the freelance marketplace and either posts a job or browses through available offerings. If the client posted a job, freelancers then submit applications and place bids in hopes that the project is awarded to them.
Once a job is awarded to a freelancer, the client and the freelancer communicate via the app or website for the duration of the project. When the project is finally completed and approved, the freelance marketplace finalizes all payments and both parties go on their merry ways.
In exchange for the infrastructure, support, and the ability to connect clients and freelancers, the freelance marketplace business takes a small commission on each transaction. It's a flawless system where everyone wins.
When freelancers utilize online freelance marketplaces, they are essentially getting paid to do what they do best – HTML, WordPress, Adwords, YouTube, writing, social media, editing, researching, CSS, graphic design, or just about anything. Whatever your niche is, it's possible to turn it into a remote career.
When you become a freelancer, you are actually an independent contractor, who gets to work remotely and have the opportunity to develop a loyal clientele, build an outstanding portfolio, access a global audience, browse countless job listings, and interact with potential clients. This is the ultimate way to build your own business, market yourself, and make a lucrative living.
The popularity of online freelance marketplaces has boomed in recent years. Freelancers are keen to take advantage of today's seamless connectability. Now they are able to earn money online by designing logos, doing voiceovers, making people laugh, creating websites, writing grants, proofreading manuscripts, researching articles, coding apps, or providing countless other services. And they are paid well for their work.
Pay always depends on the clients, skill sets, and other factors. Most freelancers can make about $1,000 per month online, while some freelancing superstars can easily make over $100,000 per year. It's all up to you and how much work you find and complete. Sign up for free accounts with multiple freelance businesses to maximize your paychecks. The sooner you sign up, the sooner you can get to work.
Anyone who dreams of escaping the office should become a freelancer. Freelancing is a remote working paradise where you can earn money by capitalizing on your skills, talents, and creativity. Are you ready to get paid for doing what you're good at doing?
Sign up to join the millions of other freelancers who are already a part of the thriving world of freelancing. What will your freelance niche be?
Quick Facts About Online Freelance Marketplaces
Job Title: Freelancer
Office: Anywhere
Location: Anywhere
Description: Find and complete projects, tasks, and gigs via the online freelance marketplace platforms available online
Requirements: Skills/Talents
Potential Employers: Online Freelance Marketplaces
Pay: $1,000 per month on average
Helpful Freelancing Links: