Introduction: Ski Manufacturer Representative Jobs
Next time you ride a chairlift pay attention to the different gear that people use. Sometimes you can ride the chair all day and not see the same make of skis or snowboard twice. There are countless brands. It borders on ridiculous how many options are available.
Selling all of the gear is a major process that involves establishing a niche, marketing, sales, and promotions. One strategy that manufacturers use to promote their product is to utilize ski manufacturer representatives. Commonly called ski reps, sales reps, product reps, or winter sports reps, manufacturer's representatives really can make a great living by being the middleman between manufacturers and the consumers – skiers, snowboarders, and ski shops.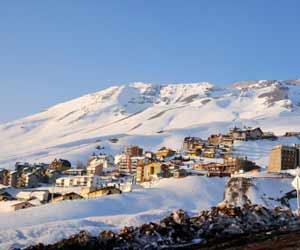 Ski repping is one of the most aspired-to sports industry jobs in the ski and snowboard sector, especially among people looking for a long-term career. Ski reps work flexible hours and definitely manage plenty of quality time on the slopes.
What Can You Rep?
If you're a gear junkie, you already know how many products are available to make you go bigger, ski faster, turn smoother, and perform better. It's amazing how many new products hit the slopes each year and every item has a rep who is promoting that product.
— View Ski Manufacturer Representative Jobs —
Some companies such as Volkl, K2, Rossignol, or Salomon have an international appeal and market. Other companies like Fly Low, Folsom, and Liberty are smaller and are still establishing themselves. Every company, big or small, needs reps, but it's easier to get your foot in the door at a smaller company.
Next winter, try to become a rep. Remember that reps work with manufacturers for anything you see on the slopes. Just pick a product like…
Skis
Snowboards
Ski Poles
Helmets
Goggles
Sunglasses
Bindings
Boots
Gadgets and Gizmos
Socks
Headphones
Roof Racks
Sunscreens
Clothing
Gloves
Hats
Product Testing
You must become an absolute expert on the produc you rep. For example a rep for Volkl will only ski on Volkl skis. They may attend meetings with Volkl and read extensive handouts about the product line.
A ski rep needs to know how the gear is made, what makes it better than the competition, why you might want that ski, where it shines and where it doesn't, the detailed specs, the pricing, and every other little detail.
Luckily, a ski rep also needs to be able to speak on how the product performs on snow. That usually means free gear to demo!
Is This The Job For You?
A ski rep has a pretty awesome job – to sell as many of their product as possible. What most people see of a ski rep is the casually dressed, amicable fellow who strolls into the store, chats with the manager of the shop, knows everything about equipment and the latest snow conditions. What they don't see are the 300 miles the rep drove that day and the ten phone calls he's made, eight of which required delicate negotiations with unhappy retailers.
Ski reps are social, cheerful, knowledge people. They can strike up a conversation on a chairlift and sell a pair of skis before your skis touch the snow again. The job seems flexible, but reps definitely put in the hours. They often work regionally with ski shops in multiple resorts and towns. Ski reps need to always be a smiling face with plenty of gear to sell at shows, comps, resorts, and events. That means as much time logged on the road as on the slopes.
Sales
Ski reps are in the business of selling winter sports equipment, and most work almost entirely on commission. This means the rep is under intense pressure to create sales or he won't see a paycheck. It's easy to log lots of hours consulting with store managers, handing out demo equipment, showing their wares at trade shows, and counting inventory without making sales or getting boosted commissions.
What it comes down to is sales. The more people you know and the more people who trust your advice – the better you will be at your job. Making sales can be hard work, but it's much easier if you truly believe that your product is the best. If you love your brand, it's simple to get people to buy your gear. One of the perks of the job is that you get to ski almost every day and that will help you remember why you love being a ski rep.
Every company needs sales reps to hype their products. Lots of people want to be reps. If you have the background, the dedication, and the knowledge; it is easy for a determined person to find a company to rep. The next page looks at the job outlook for ski reps.