Where do you see yourself in five years? Will you be doing the exact same thing that you're doing now? Or are you an ambitious professional who strives to grow your career and do great things? Now is the time to determine if you're stuck in a job that's not going anywhere. If you feel trapped, it might be time to escape a dead end job.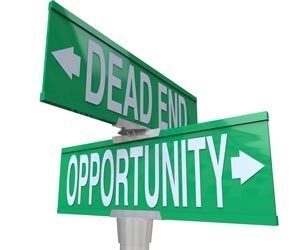 Dead end jobs can be defined as any job that's not helping you achieve your long term career goals. It's a bit subjective, but it's important to make sure that your jobs act as stepping stones for you to climb the ladder and become a successful professional.
The first step to escape a dead end job is to recognize if your job qualifies as a dead end job. Do you recognize any of this signs?
No room for advancement
Employer isn't willing to change
Job limits your potential
Job is not helping you achieve your career goals
The boss treats you unfairly
You hate going to work every day
Your job doesn't challenge you
You're not a part of the team
Your employer is stagnant
You never receive any feedback or praise
You haven't received a raise
Are you stuck in a dead end job? If so, it's time to take action. You can't sit back and wait for an opportunity to present itself. You'll need to push your comfort zone and make opportunities happen – and the sooner the better!
If you want to escape a dead end job, here's what you need to do:
Explore Your Options – Research what opportunities exist, where they are located, and what you are qualified to do. Be realistic in your options and determine the best move for you.
Speak To Your Boss – Raise awareness about your situation. This may help to jumpstart change. Speaking to your boss will alert them to how you are feeling.
Build Your Skill Set And Knowledge Base – No matter what you want to do, you're going to need the skills, education, and experience to make it a reality. Go back to school. Take skill courses. Volunteer to gain experience and build your resume. Once you're ready, you'll be more eligible to find a job.
Start The Job Search – The job search is a time consuming project. Start searching now so that you can bring in a paycheck while you're still employed.
Relocate – Where you live has a direct impact on what jobs are available to you. Based on your research and options, is it best to relocate?
Start A Side Gig – A dead end job still gives you a paycheck, which makes it a good opportunity to see if you can grow your side hobby into a lucrative business.
Quit Gracefully – If you've truly had enough or you've found another job, it's time to quit.
Don't let a dead end job get the best of you. You have the power to make a change in your life. Take action and live the life you love.
Let JobMonkey Help You Get Your Career On Track
If you really want to escape a dead end job, stop by JobMonkey.com to research different cool jobs and fun careers. Find job search advice on the JobMonkey Blog. Then, when you're ready, it's super easy to search for jobs on the JobMonkey JobCenter.
Now is the time to ditch the dead end job and start working toward the future you've always wanted.