Alaska. The name conjures up images of a wild frontier, exciting adventures, and summer jobs. Alaska is the largest state in the US. It's 663,267 square miles – that's two times the size of Texas! Less than 1 million people live there. The only way to describe Alaska is BIG! And also lots of space to spread out.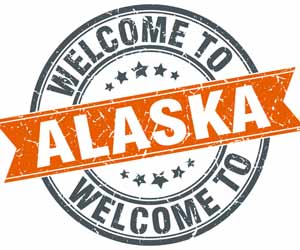 With so much land, Alaska has a wide variety of geological features – glaciers, mountains, fjords, islands, tundra, coastlines, rivers. It's one wild place that is primed for adventure seeking job seekers who are seeking Alaska summer jobs.
People want to go to experience Alaska in all of its grandeur. They want to drop their jaw in awe of national parks like Denali, snap their cameras at massive grizzly bears, go salmon fishing on the Cooper River, stay in remote lodges and enjoy the peace and quiet, go heli-skiing in endless mountains, sea kayak near Orca whales, or watch glaciers calve in Glacier Bay from the safety of the cruise ships. Guess what all of that means? Lots of Alaska Summer Jobs.
Alaska thrives on many things, but summer tourism is a major factor in their economy. That means lots of Alaska summer jobs for those who are interested. Here are a few examples of the Alaska summer jobs that you might find:
JobMonkey has an entire industry guide devoted to Alaska Summer Jobs. You can get the nitty-gritty details on all sorts of Alaska summer jobs, cool employers, and valuable resources. Make this your jumping off point for your Alaska adventure.
Everyone needs to go to Alaska in their lifetime. Some go once. Others go, fall in love, and stay there forever. Alaska is incredible. There are so many Alaska summer jobs that it will blow your mind. Try to start your Alaska Summer Jobs search on the JobMonkey Job Board today.