Airline Industry Jobs
How would you like a job that can take you from the Eiffel Tower to the Caribbean to the Far East and back again? Or how about a position that grants free air travel to you and your friends or family?
The airline industry presents many different types of opportunities to job seekers – both at home and abroad, on land and in the air. From the sales agent at the ticket counter, to the flight attendant, air traffic controllers, aircraft maintenance personnel, airport security, baggage handlers, and all the way up to the pilots – there are many types of jobs with airlines available. While some of them have extensive training requirements, it may surprise you to know that other airline jobs have very few – if any.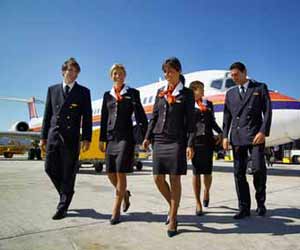 In this section of JobMonkey we cover:
Working in the airline industry can give you all this in what many find to be a fun and rewarding career. The airline industry is an important one around the world because people both need and want to travel. In some areas of airline jobs, there is currently a shortage in such areas as air traffic control and airport security. The Bureau of Labor Statistics is expecting this industry to expand considerably in the next few years as the economy gets better and more people are willing to travel. If you are willing to work while you are having fun, there are also opportunities for advancement in most aviation industry jobs, as well as the possibility of being transferred to other locations.
Quick Facts – The Bureau of Labor Statistics says that airline pilots are one of the highest-paid occupations in the United States, with an average salary of over six figures!
Types of Employment Available
There are many different opportunities in the airline industry. If you love to work with people, you have plenty of opportunity as a ticket agent or flight attendant. Flight attendants help people to get situated on the airline, explain procedures for emergencies and make announcements. They also serve food, help enforce policies, and more.
Did You Know? Many people get training to go into the airline industry after having been in the military and getting similar training there.
If you are a hands-on kind of individual, you can be trained as a mechanic or service technician. These specialists perform jobs like inspections, ensure that aircraft systems are working properly and fix them when they are not, use diagnostic tools to troubleshoot, and much more. They often receive specialized training to work on certain components or types of aircraft such as propeller driven aircraft, helicopters, or jets.
Positions at airlines include not only the pilots and flight attendants on the aircraft, but also a vast array of support positions on the ground. Whether it's working as a cargo handler, mechanic, ticket or airline job customer service rep, reservations agent, security guard, or any number of office positions, there's something for you in the airline business.
Search Airline, Aviation and Aerospace Industry Jobs!
Airline Industry Benefits
As an airline employee, you'll enjoy a flexible schedule, excellent pay and benefits, and possibly some incredible travel perks. With some airlines, travel benefits may also be extended to family members. You'll also have the opportunity to work with people, hold a valued position with a future, and be a part of one of the world's largest industries.
Working in this industry can be exciting and unique. While a few airline jobs offer travel benefits, many are not mobile at all. Depending on what you want, you have excellent opportunities to work in many major cities – or even some of the smaller ones – since airports of any size need personnel to fill many different jobs. Different airlines also offer varied benefits, too.
Airline Jobs Summary:
There are many types of positions available in the airline industry. Each is profiled in this section of JobMonkey!
Some jobs require extensive training, but others have few requirements.
The pay is generally excellent, plus travel benefits may be available.
Airport jobs are available in most cities throughout the nation.