The term laptop lifestyle seems to be popping up all over the place lately. It sounds intriguing, but what is it exactly? The laptop lifestyle refers to someone who utilizes the power of the Internet to create a remote business and earn money online. It's a pretty simple concept, but is it the right option for you?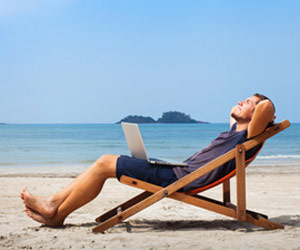 In theory the laptop lifestyle allows you the freedom to live the life you want to live. You'll be your own boss, make your own hours, reduce your stress levels, and be happier. By taking advantage of the online marketplace, you'll be able to work, live, and play wherever you choose (as long as you have a solid Internet connection). Your entire business will include a laptop that you can throw in a backpack and take with you. Isn't this what we've all been searching for?
People are instantly attracted to the laptop lifestyle for obvious reasons. It's the exact opposite of the typical 9 to 5 gig. To pursue the laptop life, you will need to work for yourself, work remotely for an employer, or work freelance. Based on these options, you might find work as a:
SEO Expert
Affiliate Marketer
eCommerce Entrepreneur
Programmer
All of these jobs require specific skill sets, which means the laptop lifestyle isn't for everyone. Just because you can pack up your whole business in a backpack, doesn't mean that it's all fun and games. To be successful, this lifestyle requires hard work, dedication, and self discipline. Ultimately, your success completely depends on one thing: you.
Before you quit your job and opt to live the laptop lifestyle, it's important to realize that there is no secret formula or recipe for instant success. It's up to you to develop your niche, become an expert, create your brand, and build your following. No one's going to do it for you. It can take hours, days, months, or even years before you collect a paycheck from the online world. But if you're patient, dedicated, and knowledgeable your hard work can pay off. Even if it doesn't, you'll learn a lot in the process.
What Type Of Work Do Freelancers Do?
Perhaps the best way to live the laptop life is to pursue it as side hustle first. This way you can learn the ropes and supplement your income before you turn it into a full time gig.
If you are able to turn the laptop lifestyle into an income producing business, it's important to realize that the laptop lifestyle is about the lifestyle, not the money. You might not earn monster paychecks, but you will definitely be able to live the life you want to live. If you plan to make a change and pursue the laptop lifestyle, it's important to go in with a realistic approach before you risk it all.
Life is short and maybe the risk is worth the reward. What do you think? Is it the right move for you?
See Also: