Thinking about becoming a bartender? Bartenders are in demand and there are plenty of job opportunities both locally and globally. This post shines the spotlight on why bartending is awesome. Is this the right career choice for you?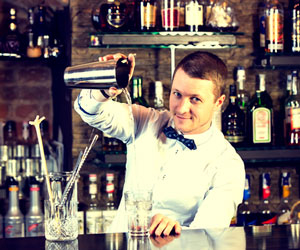 Bartenders mix and serve drinks in a wide variety of establishments. You can find bartender work at taverns, pubs, clubs, restaurants, concert halls, catering events, hotels, resorts, and other drinking establishments. There's no shortage of work opportunities. According to Statista.com, the bar and nightclub industry is a $24 billion industry. The BLS notes that 580,900 people are employed as bartenders in the US. Will you become one of these people?
8 Fun Jobs In The Alcohol Industry
While some people wholeheartedly pursue a career in bartending, others fall into the job as a back plan. Since bartenders are in-demand in the evenings, over the weekends, or during special events, the role is often filled by people who are trying to earn extra money or need a second job. Since no formal training is typically required to become a bartender, it's a pretty easy niche to break into.
Let's take a look at why bartending is awesome:
Knowledge Of Drinks – To be a successful bartender you have to know your alcohol and your drink recipes. There's no better way to becoming an alcohol expert than working behind the bar.
Social Atmosphere – People typically go to bars for the social atmosphere. As the person pouring the drinks, you get to know a lot of different people.
Creative Gig – Mixing and creating alcoholic drinks is a creative process. What will your next concoction be?
Great Tips – When people order drinks, they almost always leave a tip. If you work in a busy bar, those tips can quickly add up. The BLS notes that most bartenders make about $10 per hour or $20,800 per year – Plus tips.
Flexible Schedule – Most bartenders have a flexible schedule where their days are free and they work nights. Many bartenders start bartending as a part time job before going full time.
It's Fun – People who pursue bartending jobs are looking for a fun job. In this gig, the days are always a bit different and the people you meet are often entertaining.
Plenty Of Job Opportunities – It would be nearly impossible to count all of the bars in the world. Every one of those employers needs knowledgable and skilled bartenders to serve drinks to their patrons.
It's Not A Desk Job – Bartenders work on their feet. Even though they work behind the bar, it's still an active job that's far from the 9 to 5 grind.
If you want to become a bartender, you should take a bartending course where you can learn the ins and outs of different types of alcohol, memorize drink recipes, and build your experience. Next polish your resume and start applying for jobs. You might start as a bar back, but you'll eventually work your way into a bartender job.
Bartending jobs aren't right for everyone. If you're a people person with a good memory and have the ability to stay grounded you can excel in this cool niche. If you want to work in the alcohol industry, but you don't want to become a bartender, consider jobs such as Winemaker, Cicerone, Brewmaster, Sommelier, or Distiller.
Bartending is awesome, but is it right for you? That's for you to decide. Looking for a bartending job? Search and apply for bartending jobs on the JobMonkey JobCenter today.
See Also: