Mixologist Jobs
Are you a whiz at mixing drinks? Do you have a knack for making flavorful alcoholic concoctions? If you're creative and social, then consider a job as a mixologist.
A mixologist mixes and serves drinks. It's basically a fancy name for a bartender, but some people in the industry are a bit sensitive about the two titles interchangeability. They believe that a mixologist is an alcohol chef, who creates and pushes the limits of what mixed drinks can be, while a bartender is just a person who tends bar, like a waiter.
Mixologists know their alcohols.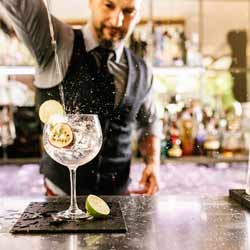 They can talk all night about microbrews, premium vodkas, local gins, agave tequilas, spiced rums, perfectly aged bourbon, or sweet schnapps. Not only can they rattle off every type of spirit, they can also tell you about what makes it flavorful and why, the alcohol's history, and they can speak about overall taste and composition. They take their expert knowledge and create innovative drinks and cocktails that explore the boundaries of flavors.
Some consider mixology an art form. Mixologists choose high quality spirits, liqueurs, fruits, vegetables, and spices to create sensational drinks. Small ingredient changes can make drastic changes to taste – that's why mixology is fun. A mixologist's creation may only be served at one specific location, designed for a special event, or created solely for a restaurant's seasonal menu. But beverage inventions can also take the world by storm.
Beyond the creative exploration of new alcoholic beverages, mixologists fill the same role as bartenders. The passion to dabble in mixing new drinks is the only thing that sets them apart. Bartending is an exciting job if you have the social personality for it. It takes hard work, a good memory, and a customer service smile.
Mixologists have their hands full when they are tending bar. They are constantly taking orders, mixing drinks, and acting as cashier. They memorize all the drink recipes and are able to make them quickly. During all that they chat with customers, lend a listening ear, and tell stories. They also monitor customers, remember regular clients and their favorite drinks, keep track of sporting event scores, and ensure that no one is over served. It can be a challenge.
Most mixologists start their careers as bar backs, then climb the ranks to bartender, before they get the honorary title of mixologist – the inventor of crazy drinks. The best way to get into this field is to take a bartending course and become a certified bartender.
Then apply to work at bars, restaurants, pubs, hotels, taverns, clubs, discos, or other places that serve drinks. You could even find jobs on cruise ships or at luxury resorts. Become proficient at making every drink and expand your knowledge of what makes drinks special. Experiment with mixing your own new drinks. It's a fun game to play; mixologists make it into a career.
Think about all the places that serve drinks – local bars, big city clubs, your local Applebee's.
All of these places need mixologists and bartenders. This career is always in demand all over the world. It is a position where you can work worldwide, with the appropriate work visas, and learn exciting local drinks and customs. The hours can be taxing because of the late nights, but the smiling faces and the happy customers make it worthwhile. A typical mixologist can pull in $20,000 to $40,000 per year, but the tips are outstanding.
If you think mixology might be the career for you, download the smart phone app called Mixologist. It's a good starting point for a life of tending bar, mixing drinks, and exploring flavors. Who knows where your alcohol creativity will take you?
Quick Facts About Bartending Work
Job Title: Mixologist, Bartender
Office: Bar, Restaurant, Pub, Tavern, Club
Description: Create, mix, and serve drinks
Certifications/Education: Bartending certification
Necessary Skills: Social, Knowledge of beverages, Customer service oriented.
Potential Employers: Bars, Restaurants, Clubs, Special Events
Pay: $20,000 to $40,000 plus tips, Average is $27,000
Helpful Mixologist Employment Links:
Search Mixologist Jobs on JobMonkey
Food and Beverage Jobs
National Bartender Association
American Bartending Association
International Bartenders Association
The Mixologist
University of Mixology