Beer Brewmaster Jobs
Next time you're sitting around at your favorite bar enjoying the best local beer you have ever tasted, think about how cool it would be if you had made that beer.
Your friends would be so impressed. Bragging rights like that can only come from a brewmaster.
You've probably heard the word brewmaster before. Maybe you saw it on the menu at your local brewpub? A brewmaster is the person that creates beer. Their job is to bring beer from the stages of creative genius all the way to the consumer. They may work for a small local beer like Dillon Dam Beer, a bigger microbrew like New Belgium, or a beer corporation like Coors.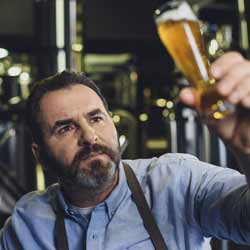 A brewmaster starts beer at the very beginning stages of its life. Brewmasters are kind of like a scientist in a white lab coat with a clipboard. First a brewmaster creates a recipe that they think will be delicious and a big seller too. Producing a great beer recipe is hard work and takes practice. Next the brewmaster has to visit farms to select the raw ingredients – yeast, grains, barleys, hops. Then he has to test his recipes. This requires cleaning all of the equipment – vats, kettles, fermenters, kegs, bottles – clean equipment means better taste. Next, they have to test the recipes. This means evaluating ingredients, mixing hops, mashing, pitching yeast, and finally taste testing. This process can take a long time because a brewmaster wants to make a great beer.
Brewmasters hardly ever get hired without any experience. Some people learn by shadowing brewmasters, volunteering their time, or working at a brewpub. The best way to begin to learn this business is by starting a home brewery at your house. This process teaches you the very basics and can produce some amazing beers. It gives you a chance to explore your beer making skills, and limits.
Many brewmasters even attend school to master this art. If you want professional training at brewing beer, look into the Institute of Brewing & Distilling and the Siebel Institute of Technology, which offer both online and classroom courses. Major universities like University of Wisconsin or University of California at Davis also offer brewing courses. The bigger brewmasters usually have degrees in chemistry.
There are lots of people that work at breweries. The brewmaster is generally the person with the most brewing knowledge, experience, and education. Then he manages the rest of the team. Brewmasters have experienced tastebuds that allows them to dissect a beer. When it comes to beer flavour, strength, mouth feel, gravity, touch, aroma, and appearance a brewmasters senses are like superpowers. This is what happens when beer becomes a career.
Breweries run 24 hours a day. This is why brewmasters often work 10 hour days.
They can usually find work at breweries or brewpubs. There are over 1,700 breweries in the United States. The majority of them are small breweries, and you don't have to work for Budweiser to be successful. If you're really incredible, you may even be a self employed home brewer. Home brewing is how many of today's famous microbrews began.
A brewmaster at a local brewpub can make around $35,000 a year, while a brewmaster at a place like Coors, could make over $100,000 a year. Most brewmaster will tend to be on the lower end of the scale though. But when your killer beer wins an award at a beer festival, your job options and pay scale will increase quickly.
Quick Facts About Brewmaster Jobs
Job Title: Brewmaster
Office: Brewery
Description: Creates beer.
Certifications/Education: Nothing required, Brewmaster school recommended, Home Brewing or a Degree in Chemistry a bonus
Necessary Skills: Love of beer and creative ability to develop beer
Potential Employers: Self Employed, Breweries
Pay: $35,000 to $100,000+ – depends on size of brewery (plus free beer)
Helpful Beer Brewmaster Employment Links:
Search Brewmaster Jobs on JobMonkey
Craftbeer.com
American Brewer's Guild
Ale Street News
New Brewer Magazine
Brewers Association
Institute of Brewing & Distilling
Siebel Institute of Technology