Commercial Diving
When divers hear about commercial diving, they immediately think of money. And they're right! Commercial diving is one of the most lucrative diving career paths. But don't become a commercial diver for the money, become a commercial diver because you have a passion for diving and working in the water. If you're ready to get dirty, follow directions, use common sense, and feel the rush – then commercial diving is the way to go.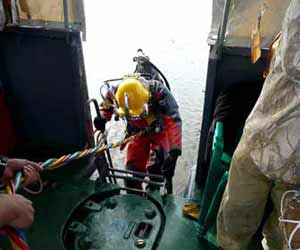 A commercial diver makes a solid income. The pay range can stretch from $18,000 U.S. up to $80,000 U.S. + and your work year may include chunks of time off. Most employers pay an hourly wage, plus hazard pay on top of that. You make more money based on the depths of your dives ('depth pay') or by diving in an enclosed space, like a pipeline. It is not unrealistic for a commercial diver to make over $1,000 a day! It all depends on the amount of experience you have and the type of diving you're doing – so be prepared to pay your dues before pulling in the big money.
In order to be considered for a commercial diving job, you do need to have a few things on your resume. Most commercial diving jobs require a high school diploma or the equivalent. You also need to be trained in diving beyond the basic certifications of a recreational diver. It is highly recommended to attend a commercial diving school to get all of the necessary training. These can be quite pricey, but worth every penny. These schools will teach you all the skills you need to work underwater from welding to depth diving to gas mixing. The courses range from 16 weeks upwards and can be found in a simple Internet search. Beyond giving you the basic skills and knowledge to be a commercial diver, many of these schools will also help you find a job upon completion of the course. Remember that in commercial diving, your life is in your hands – it is absolutely necessary to be 100% confident in your skills.
You may be wondering what type of work you would be doing? As a commercial diver, you will work in some intense underwater settings. Be prepared for waves, darkness, pressure, currents, depth, enclosed areas, and cold. In conditions like these, it is important to be in great shape. Those conditions are what make commercial diving such an adventure! You will most likely find yourself working for an employer like the oil industry, government, or law enforcement. These employers offer jobs like underwater welding, underwater inspections, salvage, oil industry work like exploring or drilling, and underwater testing. Commercial divers are essentially underwater construction workers. Find your niche and you will climb the ladder faster than a "jack of all trades." These jobs can be done onshore or offshore and are often contract work, so be ready to travel the world to stay in steady employment.
Onshore commercial diving takes you into lakes, harbors, streams, and even sewage pipes! You may have the job to inspect the steel in a bridge, or to replace a filter on a dam, or to check a ship for corrosion, or to search a mountain lake for a lost car. There are endless possibilities and these diving jobs are easier for a newbie to get after paying your dues for a few weeks.
Offshore commercial diving generally leads you into the employment of oil companies. Unlike onshore diving, the hours can be crazy. You work out in the ocean, so once again, be prepared to travel. You will generally be doing underwater welding, pipeline exploration, or oil drilling. You'll have to pay your dues first though, so expect to do grunt work for some time.
Commercial diving is a great way to make a living. Everyday is different, guaranteed. So if you have a passion for diving and are ready to travel the world, work underwater, and feel every emotion from the adrenaline of fear to the adrenaline of success on a regular basis, then commercial diving will be a great career for you!