Do people describe you as lazy? Google defines lazy as "unwilling to work or use energy." For job seekers or enthusiastic professionals, being lazy is like the kiss of death for your career, but other people embrace the lazy lifestyle. If you're one of these people, it might be smart to focus your job search on the best jobs for lazy people.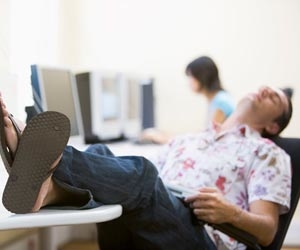 According to Bloomberg.com, "Americans blow $27.8 billion a year by being lazy." Yikes! So what makes people lazy? The reason often lies in the fact that lazy people haven't discovered what they like doing in life. Instead they are stuck in a job that they hate or they are not motivated to escape a sedentary lifestyle. In short, they lack motivation. Does this sound like you?
How To Escape The 9 to 5 Grind
Are you looking for a job where you can sit around in your pajamas, laze around at the house, stare at a screen, and ultimately do a whole lot of nothing while still collecting a paycheck? It might be time to embrace your laziness. Don't let it hold you back anymore. Instead, find a job where your laziness will help you thrive.
Let's take a look at some of the best jobs for lazy people:
Professional Cuddler
Critic
House Sitter
Most of these jobs are relatively easy to find, but there are plenty of other odd jobs out there that could make the list of the best jobs for lazy people. These odd and unique jobs are bit harder to find, but might include job titles like: caretaker, furniture tester, beer tester, secret shopper, Netflix watcher, shared economy worker, chocolate taster, product tester, and the list goes on. Do your research and you'll be amazed at what jobs actually exist out there.
When you find a job that requires minimal effort, you might be happy for a stretch. Unfortunately, the best jobs for lazy people don't always lead to long term, successful careers. The best thing you can do is to find a job or a side gig that you enjoy. This will help you to stay motivated and get things done.
If you're not sure what jobs exist out there, explore your options on JobMonkey.com today.
See Also: