Need a job? Why don't you apply for work in the trucking industry? When you become a trucker, you'll make your living on the open road. Are you ready to learn why this job might be ideal for you?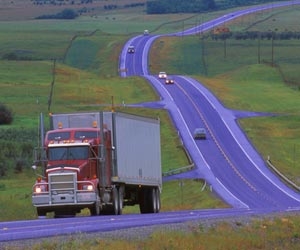 Learn More About The Trucking Industry
Trucking is big business and it's here to stay. Here are a few eye-opening facts about the trucking industry directly from GoTruckCapital.com:
The trucking industry collects, on average, $650 billion in revenue each year. That is about 5% of America's GDP.
It is expected that the trucking industry will grow by about 21% by 2025.
One in 14 jobs in the US is created through the trucking industry or it's affected by it.
There are about 3.5 million truck drivers in the United States, of which 200,000 are female long-haul drivers.
A line of all the trucks in the US (around 15.7 million of them) would reach the moon.
As you can see, the trucking industry is massive. Let's take a look at 7 reasons to become a trucker:
Job Security
Freedom & Independence
Travel On The Open Road
Easy Training
Pay & Benefits
In Demand Career
Lots Of Career Options
Are you ready to earn your CDL and become a trucker? We thought so. JobMonkey's Truck Driving Industry Guide. is an in depth resource about everything you need to know about becoming a trucker – types of truck driving jobs, truck driving schools, pay & benefits, employer profiles, CDLs and so much more. Stop by and take advantage of this FREE resource.
It's also free to search and apply for hundreds of driving jobs posted on the JobMonkey JobCenter. If you're ready to start your job search now, here is a list of trucking employers who might hire you:
See you on the open road!