When you're searching for a job what factors are your top priorities? Is it the job? The paycheck? The location? The employer? The perks & benefits? There are so many things to consider when applying for jobs.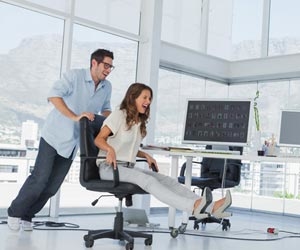 As a job seeker, we know you want to find a job with one of the best places to work. To do this, it's your duty to do your research and learn about the ins and outs of a particular job and employer. When you know what to expect and it aligns with your wants and needs, it's a lot easier to pick the right job for you.
Find Jobs That Will Make You Happy
It seems that lots of job seekers focus their job search on brand name employers like Apple, Exxon, Amazon, or countless others. But don't forget about the smaller employers. Often small employers are the best employers.
There are small employers in just about every niche: breweries, architecture firms, apparel companies, advertising firms, ski resorts, outdoor non profits, student travel businesses, natural gas, market research, accounting, camps, PR, and more. It's up to you to learn about small employers in your niche.
One great way to learn about some of the best places to work is via OutsideOnline.com's list of the 100 Best Places To Work. Below we'll highlight the top 25 cool employers on that list:
Forum Phi Architecture
GroundFloor Media
WhippleWood CPAs
Shine United, LLC
Pax8
Room 214
Ergodyne
Power Digital Marketing
Found And Laramore, Inc.
Charles Cunniffe Architects
Peak Design
Natural Habitat Adventures
Pellucid Analytics
Hailey Sault
SportRx
GeoEX
Bluetent
MyRounding
Southwest Michigan First
Geocaching HQ
Mathys+Potestio
Adaptive Sports Center Of Crested Butte
The Trade Desk
TeamSnap
To see #26 to #100, please visit OutsideOnline.com. On that page, you can learn about each company's location, what they do, number of employees, average salary, vacation time, perks, and more.
How many of these cool small companies have you heard of? Maybe you've heard of one or two or maybe they are all new to you. Regardless of how many you recognize, the key takeaway of this post is to realize that some of the best employers might not even be on your radar yet. When you do your research, you'll increase your chances of finding an employer that you'll love.
Before you leave, it's also interesting to see a few of the statistics from the list. This info was compiled by OutsideOnline.com. Here are some of the interesting takeaways:
61 – Companies on the list with fewer than 50 employees
6 – Number with more than 250 employees
39 – Companies located in Colorado
15 – Companies located in California
57 – Companies that offer yoga in the office
6 – Companies in the non-profit sector
9 – Companies that have kegerators in the office
26 – Number that offer ping-pong, though plenty of others have foosball, cornhole, or other games that help employees blow off steam
98 – Percentage of companies that have a policy aimed at reducing their environmental impact
We highly recommend that you start your job and employer research on JobMonkey.com. Once you find the right employer for you, it's time to make yourself the best job candidate ever and apply for a job. Good luck!
See Also: