Scuba diving is a fun and safe way to explore the underwater world. People from all walks of life enjoy donning wetsuits, tanks, masks, fins, and other diving equipment for the opportunity to dive in far-flung locales.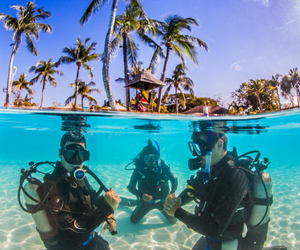 Every single time you venture underwater you're bound to see something new and exciting. It's a whole different world under the sea. There's something magical about floating next to sea turtles, swimming with dolphins, watching sharks cruise along the ocean floor, exploring spooky shipwrecks, or enjoying tropical fish as they dart in and out of  colorful coral reefs.
If you love the idea of exploring the underwater playgrounds of the world, you need to find a job in the diving industry. It's definitely an exciting "office."
To find a job in the diving industry, you'll need to earn your scuba dive certifications from a reputable dive organization like PADI, SSI, or NAUI. These certifying bodies teach you the skills and knowledge you need to safely enjoy the underwater world. As you gain experience and log your dives, you'll be able to climb the dive ladder and find cool diving jobs all over the world.
Let's take a look at a few different scuba diving jobs that might appeal to you:
Picture the perfect diving job. Did you picture crystal clear waters, colorful fish, tropical beaches, and happy clients? One of the best things about scuba diving jobs is that they open all sorts of global job opportunities. Will your next job be in Fiji? Australia? Maldives? Turks & Caicos? Florida? Spain? Greece? Egypt? Hawaii? Bahamas? Brazil? Or some other paradise? It's totally possible. Of course, if you want to stick closer to home, there are local opportunities too. Just check in at local dive shops for more info.
If you're keen to find a diving job, visit the JobMonkey JobCenter to search and apply for diving jobs right now. You might find diving jobs with dive shops, scuba businesses, resorts, dive clubs, cruise ships, or even dive organizations. Wherever you find a scuba diving job, you're going to love this cool gig!
Of course, if you want to earn a bit more money while working underwater, you might want to consider earning a certification and finding work in the world of commercial diving. Learn more about commercial diving on JobMonkey.com.
See Also: