Did you know that water covers 71% of the Earth's surface? Our planet's oceans, seas, lakes, rivers, and other bodies of water are a fantastic option for your next "office." If you're looking for work, why don't you find one of the best jobs on the water?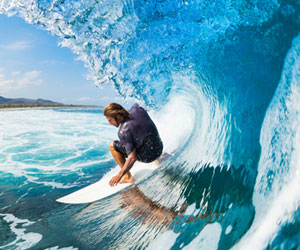 Whether you're looking for an opportunity near you or you want to travel to some far flung locale on the other side of the planet, there's likely going to be a selection of jobs on the water to choose from. If you're destined to work on the water, you'll have to do your research to find the right job for you. Hopefully this post will shine the spotlight on a handful of cool possibilities.
Explore Cool Jobs On JobMonkey.com
Jobs on the water might include things like teaching guests water sports in scenic resort towns, taking people fly fishing on remote rivers, running sightseeing tours around a tropical island, diving underwater to observe sea life, piloting cruise ships along the Alaskan coast, tending boats at a marina, saving lives on a popular and crowded beach, working on freighters heading across the deep blue seas, leading whitewater rafting trips on wild rivers, or sailing across the ocean. As you can see, the water offers endless opportunities.
Are you ready to discover a selection of the best jobs on the water? Let's take a look at a handful of cool jobs for water lovers:
Surfing Instructor
Boat Captain
This list only scratches the surface of what exists out there. When it comes to working on the water, you'll see that this is a massive niche with opportunities in a wide variety of industries and locations. Decide where you want to be and what you want to do and then begin your job search for the best jobs on the water.
Are you ready to get wet at work? Let the adventure begin.
See Also: